Member Love Month Mornings!
Recurring event
see all
February 27
@
9:00 am
–
11:00 am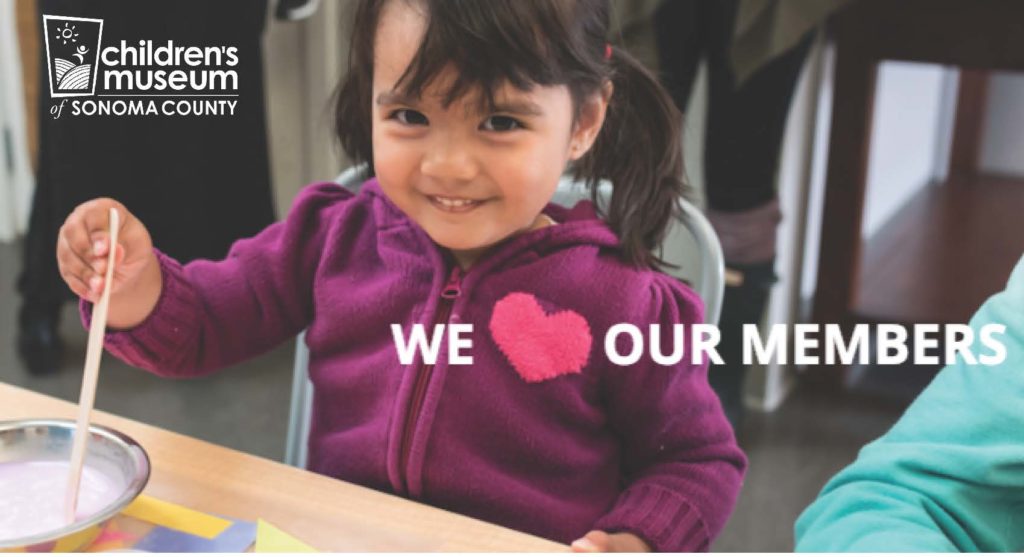 Happy Member Love Month!
Happy February from the Children's Museum of Sonoma County! This month we are celebrating our ✨WONDERful✨ Members! ? #MemberLoveMonth ⁠⁠
Every Sunday during our Member Mornings from 9am – 11am, we will be hosting special programs for the kiddos and will be serving FREE coffee generously donated by local vendors.☕
? Sunday, Feb. 6, 2022 – Bath Fizzies: Using simple, natural household ingredients, we will make essential oil-scented bath bombs!
? Sunday, Feb. 13, 2022 – Wet Felting: With pressure and heat, we will turn wool into felt coasters for you to take home. A blending of science and art!
? Sunday, Feb. 20, 2022 – Lip Balm: Using beeswax, coconut oil, and essential oil, we will create lip balm. You will get to take home a reusable container of your own creation!
? Sunday, Feb. 27, 2022 – Heart Stuffy Making (no-sew): We will create a Heart Stuffy using felt and hot glue and decorate them!
As a non-profit organization, we are so grateful to all our museum members for playing a key role in supporting our mission. Together, we can continue to inspire a lifelong love of learning in children! ????
Considering becoming a member of the Children's Museum? Our new membership program allows you to choose a package that works best for your family!?