EXHIBIT GRAND OPENING: Space Odyssey for Galactic Explorers!
March 26
@
10:00 am
–
2:00 pm
Join us for the Grand Opening of our New Space Odyssey Exhibit!?
Calling all Explorers to the GRAND OPENING of our newest exhibit, Space Odyssey for Galactic Explorers!
The Children's Museum of Sonoma County is pleased to announce the GRAND OPENING of our new Space Odyssey for Galactic Explorers Exhibit! Be one of the first to experience the wonders of our universe up close during our grand opening celebration on SATURDAY, March 26, 2022, from 10:00am – 2:00PM.
During our grand opening event, Galactic Explorers will also be able to enjoy special programming including:
?‍? Guest Speakers & Presentations
? Rocket Activities & Crafts
☀️ Solar Science Explorations
? Galaxy Crafts
? And Much More!
The new Space Odyssey for Galactic Explorers exhibit is guaranteed to spark the imaginations of children and adults and inspire a lifelong love of science, exploration, and discovery.
Call for Empty Toilet Paper Rolls!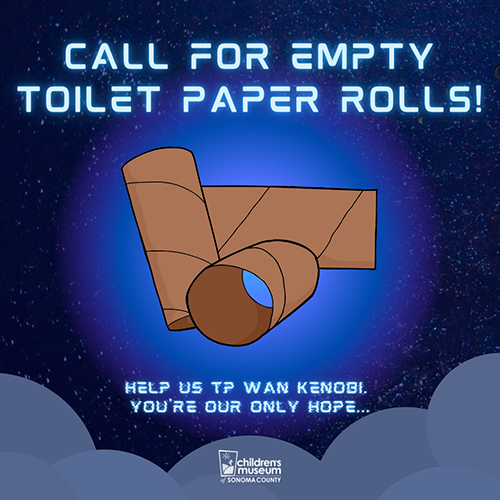 You're our only hope… The Museum needs as many empty toilet paper rolls as possible for our Space Odyssey exhibit grand opening celebration! ???
We will be using them for a special activity on the day of the event, so it is important that the rolls are:
– 100% TP FREE (Please remove any tiny paper bits!)
– Clean
– Sturdy
W⁠e are hoping to get as many donations as possible rolling in ASAP to ensure every visitor is able to participate in this fun activity we have planned for them!
So please consider bringing in any empty toilet paper rolls the next time you visit the Museum or drop them off at the front desk whenever you have a chance.
We would really appreciate your help. The more empty TP rolls, the better!⁠ ⁠
Thank you!
Adopt-a-Planet
Adopt your very own planet as part of our newest exhibit, Space Odyssey for Galactic Explorers. We have three sizes of planets up for adoption. Your donation includes naming the planet and having your name, or the name of loved ones on permanent display in our exhibit!
Thank you for supporting our mission and inspiring the next generation of explorers!