Pricing and Hours on Visit Page
Directions
The Children's Museum is located on West Steele Lane, West of Hardies Lane, next door to the Charles M. Schulz Museum. There is no Children's Museum access from the Schulz Museum's parking lot.
Directions to the Children's Museum
Parking
Our parking lot is free to Museum visitors, in the event that our parking lot is full, you can find parking on West Steele Lane, Hardies Lane and McBride Lane. Please do not park in the Schulz Museum or Ice Arena parking lots.
The Children's Museum parking lot is open during business hours only, gates are locked when the Museum closes. The Children's Museum is not responsible for cars left in the parking lot after the gates are locked. Violators will be towed.
Public Transportation
The Santa Rosa City Bus Route 11 stops directly in front of the Museum.
Gift Cards
Give the gift of play at the Children's Museum of Sonoma County! eGift Cards can be redeemed towards admission, membership or retail.
Buy an eGift Card today
Admission
For the safety of our guests, adults are not allowed in the Museum without children, without making prior arrangements.
CMOSC requests that all visitors provide at least one adult caregiver for every 4 children.
All children must be accompanied by an adult over 18 AT ALL TIMES. Please do not leave your child unattended or unsupervised anywhere inside the Museum.
Visitors can be stamped at the front desk if they wish to leave the Museum and come back later that day.
See admission pricing on our Visit Page
Accessibility
The Children's Museum of Sonoma County is wheelchair accessible. A lift is available to access the mezzanine level in our Science & Imagination Gallery.
Documented service animals specially trained to assist disabled persons are welcome, but please no pets.
We provide ear defenders, sunglasses and weighted scarves for use while visiting the Museum. We also have Calming Bins available in our Family Resource Center.
Learn more about our Sensory Friendly Afternoons
Children's Museum Story Guide
We offer a Children's Museum Story Guide to help prepare your child for their visit to the Children's Museum of Sonoma County.
Museum Map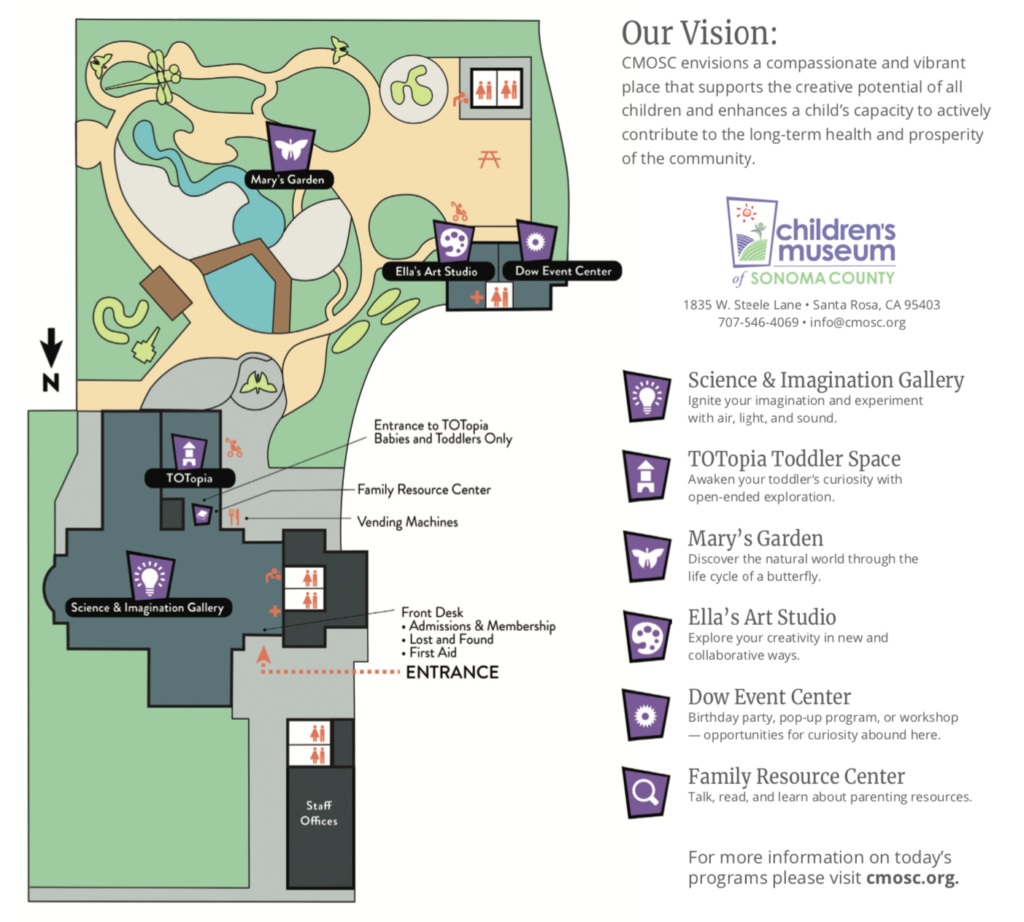 Large Groups
Any group bringing between 12 and 48 children is REQUIRED to register with the Museum. If you are a group wanting to visit the Museum, please see our Group Visits page for booking information. Please note: you may be turned away at the front desk if you have not previously arranged for your group to visit the Museum.
Food and Drink
Visitors may bring outside food and drinks and eat and drink in the picnic area of the Museum. (Please only eat in our designated picnic areas).
Glass containers, alcohol are not permitted on the premises.
We have healthy snacks available for purchase for visitors.
We make an effort to be peanut free – please pack lunches and snacks with no peanut butter or tree nuts.
Picnic tables are for family dining only and are expected to be shared. Staff may ask families to give up their table after 30 minutes of use if there are others waiting to find seating. Tables cannot be reserved or saved and birthday parties/groups are not permitted. To celebrate your birthday at the Museum, please visit parties for more information.
Restrooms & Changing Tables
There are family restrooms in the lobby, Mary's Garden, and Ella's Art Studio. All of our restrooms are wheelchair accessible and have changing tables. For health & safety, please restrict all diaper changes to changing tables only.
Attire Recommendations
Sun: While our trees are still growing, most of our outdoor area is exposed to the sun. Please bring sun protection (hats and sunscreen) for the entire family.
Water: We have multiple water exhibits outside that offer the possibility for children to get wet. We recommend bringing a complete change of clothes in the event your child needs one.
Shoes: Shoes MUST be kept on at all times. If your child plans on playing near the water areas, we recommend shoes that can get wet.
Art: Activities in the art room have the potential to be colorful and messy, please plan accordingly!
Strollers
Due to safety issues, strollers are not permitted in our indoor exhibit spaces. We offer outside stroller parking while at the Museum.
Cubbies
We have cubbies located in our Entrance Lobby for guests to use. The cubbies do not lock. The Children's Museum is not responsible for lost or stolen items.
Russian River Exhibit
No wading is allowed in the Russian River Exhibit.
Birthday Gatherings
All birthday party celebrations must occur in a RESERVED PARTY AREA ONLY. We have a limited number of picnic tables available for general Museum visitors. As a result, parties are not allowed to take place in our picnic area. As a non-profit organization, birthdays help us fund our programs and access to the Museum. Learn more about Picnic Table Parties at the Children's Museum.
Prohibited Items
Smoking is not allowed anywhere on the Museum property, including the parking lot.
Abusive and obscene language is prohibited.
Alcohol, glass bottles, and weapons are prohibited.
Photo & Film Policy
By entering the Children's Museum of Sonoma County's premises you agree that the Children's Museum of Sonoma County has the right to use your likeness, image, voice, etc. in video, and in any marketing, advertising, or related endeavors in a legitimate manner which is not intended to cause any embarrassment or undue harm.
If you do not wish to be photographed, recorded or appear under these conditions, please visit the Front Desk.
Museum Guidelines for Conduct
The mission of the Children's Museum of Sonoma County is to inspire curiosity and creativity through joyful, transformative experiences.
To accomplish this mission, we strive to maintain a safe and healthy atmosphere in which Visitors and Museum Team Members can be free from harassment, intimidation, and threats to their safety and well-being.
As such, we ask that all who enter these premises follow these guidelines:
Adults are role models for children, please demonstrate courtesy and respect to one another while enjoying the exhibits and programs.
We ask that Visitors respect the rights of others and not harass, annoy, or interfere with any other person by means of unwanted physical contact, communication or other intrusive behavior.
Obscene, profane or abusive language is not allowed in the Museum.
Visitors are required to comply with Museum policies, rules, and instructions posted or otherwise listed or verbally communicated.
Compliance with all local, state and federal laws apply here as well.
Parents, or caregivers, are responsible for the actions and safety of their children. No Team Member can take the place of adult supervision. Please have fun with, and supervise, your children.
We respectfully request that Museum Visitors not interfere with Team Members in the performance of their duties.
Please Note:
The Children's Museum of Sonoma County has the right to ask anyone who violates these guidelines, or any other Museum policies, to leave the premises.
If violations are repeated, the individual may be denied the privilege of Museum use for a set period of time or indefinitely.
If you have any concerns during your visit, please notify a Team Member.
We strive to provide a fun, healthy and safe place for families and welcome your comments and suggestions.
---
The Children's Museum of Sonoma County reserves the right to refuse service and/or access, and revoke a membership, to any individuals for any reason, including disregarding the Children's Museum policies or those disrespectful of the Children's Museum's guests, staff, exhibits or property.