The Children's Museum is Open for Play!
Whether it's your child's birthday or just a group playdate, make it WONDER-full!
With exclusive access to the entire museum for just you and your guests, your time at the Children's Museum will surely be unforgettable.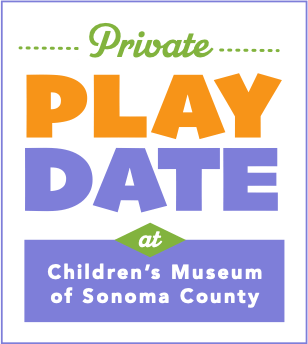 Reserve all open areas of the Museum exclusively for you and your guests for two hours of fun! Private Playdates may be reserved for the following dates and times:
Pricing
Playdate for up to 20 people (Kids + Adults) – $480
Playdate for up to 30 people (Kids + Adults) – $680
Playdate for up to 40 people (Kids & Adults) – $880
Private Playdate Blackout Days for Events:
Lunar New Year Jan. 27th-28th, 2023
Questions? Email parties@cmosc.org.
"My son and I attended a Private Playdate party at CMOSC on Saturday and we had an absolute wonderful time! Loved the private setting and being able to have the space just to our group. My son wants to do the same for his birthday, so now we're just waiting for the Party Calendar to open up online for future dates. We're looking forward to it!

Such a wonderful place you guys make available to the kids!"

-Museum Member, April 2022
NOTE:
*If you are a school, childcare, or camp, please reach out to schoolprograms@cmosc.org for Group Visit inquiries.
*Or, if you are a business, organization, or individual interested in hosting a private event with a larger number of guests after hours, please email parties@cmosc.org for more info and availability.
Includes:
Exclusive access to Mary's Garden and the Science and Imagination Gallery (museum closed to the public)
Shaded picnic area
Current museum members receive 10% off! Not a member? Join today!
Private Playdate Policies
General Party Policies
Payment-in-full is required at time of booking.
Access in and out of the museum is limited to the front entrance only.
A picnic area is available if you wish to bring food and/or drinks. The host is responsible for providing all food and drinks.
Food and drinks must remain in the picnic area only.
Please do not bring alcohol, drinks in glass bottles, or foods containing peanuts.
Outside entertainers, performers, vendors, or live animals are not permitted.
Party set up may only begin at 4:00 PM in the outdoor picnic area after the museum has been closed to the public and exhibits reset. If guests arrive prior to 4:15, they will be allowed only in our outdoor areas until the indoor space is reset.
All guests are counted at the front desk when they arrive. Any additional guests will be paid for after the party is over.
Decorations
The Children's Museum is committed to minimizing our impact on our shared environment through active education and leading by example. We provide recycling and compost bins to encourage green choices. Please assist us by being mindful of this when considering what decorations to bring.
Please limit all decorations to the picnic area only. Please bring your own tablecloths, napkins, plates, bowls, cups, utensils, etc.
Please do not bring ANY balloons, inflatables, piñatas, glitter, or confetti onto the premises.
Please do not bring any decorations that must be hung, taped, or otherwise attached to Museum property
Cancellation and Refund Policy:
For cancellations more than 7 days before the playdate: you will receive a full refund, minus a $50 administrative fee.
For cancellations with 7 or fewer days before the playdate: you will receive a refund of 50%.
Requests to reschedule will be considered on a case-by-case basis.
In the event that the Children's Museum should have to cancel a reservation for unforeseen circumstances, you will be issued a full refund or may choose to reschedule on an alternate available date.
Cancellations due to forecasted rain are subject to the policies listed above. If the host chooses to move forward with a party in the rain, a 10′ x 10′ canopy can be provided.
If you are interested in hosting a party during regular operating hours check out Picnic Table Parties.