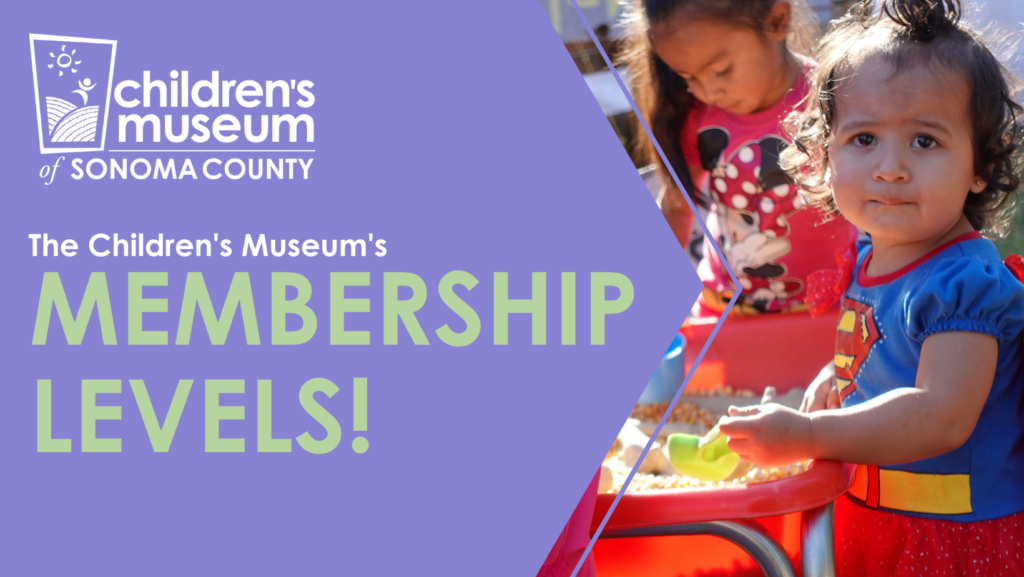 Become a member and inspire curiosity and creativity!
Embrace the power of learning through play with joyful and transformative experiences, programs, and exhibitions at the Children's Museum.
The cost of a year-long membership averages less than $3 per month for each member!
All Children's Museum memberships include the following benefits:
Admission for the selected term during regular open days*
$2 off regular admission for up to 6 additional guests
Special member hours
Discounts on private playdates, birthday parties, Gift Corner purchases, and select events
Discount at Schulz Museum & Snoopy's Home Ice Arena: $1 off each admission for up to 4 people
*Children's Museum memberships do NOT include admission to select events, private playdates or birthday parties.
You+Me
$70
Admission for adult cardholder + 1 child
Fun Four
$140
Admission for 4 visitors
Super Six
$190
Admission for 6 visitors
Be a part of the mission of the
Children's Museum of Sonoma County!
Collaborator – $400
All Super Six benefits, plus:
Support the Museum's Access for All initiative by the purchase of a membership for you and the donation of a membership to a family in need.
Innovator – $1200
All Super Six benefits, plus:
Support innovation and creativity by becoming a member of the exclusive Circle of Innovation.
Invitations to exclusive events.
All Children's Museum memberships are non-refundable, non-transferable and may not be re-sold. Please read the membership terms and guidelines prior to purchasing.
The Children's Museum strives to be accessible to all families.
Our Access for All program provides discounted admission and memberships to income-eligible families.
The Children's Museum of Sonoma County is an independent, nonprofit 501(c)(3) organization that relies on membership and admission fees as well as philanthropic support to cover operating costs, which include exhibit maintenance, facility upgrades, program development and much more. Our terms and conditions are intended to prevent misuse and abuse of memberships, which result in significant loss of revenue for the Museum. We appreciate your understanding and support.