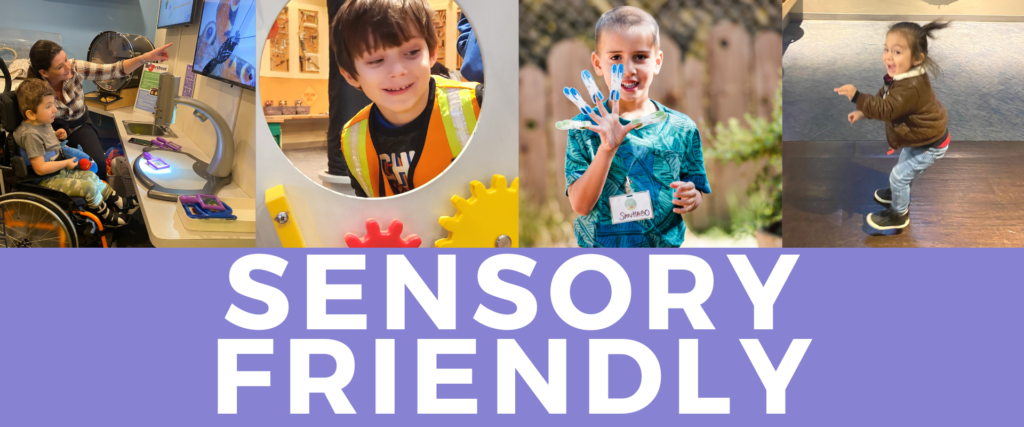 The Children's Museum of Sonoma County hosts free Sensory Friendly Afternoons exclusively for children with special needs, autism, or sensory processing differences and their families or caregivers. These Tuesday afternoons are great for children and families to play with hands-on exhibits, explore the Art Studio, and enjoy family time in a safe, accessible, and welcoming environment without the crowds, noise, and bright lights of a typical museum day.
Our team goes through the Museum ahead of time to turn down lights, limit loud sounds, and add extra signage to our exhibits to help create a safe and less stimulating environment. 
Upcoming Dates:
November 14, 2023
January 9, 2024
February 13, 2024
March 12, 2024
April 9, 2024
May 14, 2024
Time: 1:00pm – 5:00pm
Pre-registration recommended as space is limited
In an effort to better serve our visitors, please pre-register. This will enable us to communicate directly with families about expectations and updates.
What to Expect
Adjusted sounds and lighting in exhibit areas
Additional signage to assist in navigation and aid in understanding Museum rules and expectations
Visiting therapy dogs for additional support
Ear defenders, weighted scarves & sunglasses to use while you're visiting
Access to calming bins
Quiet zone area (in The Dow Event Center)
Grant Support for Sensory Friendly Afternoons has been generously provided by the Saba Foundation and the Silverado Foundation. Additional Support is provided by:
Frequently Asked Questions about Sensory Friendly Afternoons
Why are you offering Sensory Friendly Afternoons?
The Children's Museum of Sonoma County welcomes all families of all abilities anytime. Sensory Friendly Afternoons allow:

• Children with special needs, and their families, additional time and space to acclimate to the Museum without extra stimulation.
• Museum staff to provide additional support to families while they visit.
• Community partners to provide additional programming and support.
• Parents and caregivers time among peers to support each other, and create connections.
transport gifts
How does this effect your operation hours? Are you open all day on these Tuesdays?
Our Sensory Friendly Afternoons do not effect our regular open hours, we are closed on most Tuesdays, and will not be open prior to 1:00 p.m. for these events.
Do I need to provide documentation for my child with special needs?
We will not require any documentation of a special need for you to enter the museum for this event. We trust you know your child and their abilities.
What safety precautions will you be taking for this event?
Safety is first at the Museum. Our main exhibit areas are all wheelchair accessible. Staff has been trained on emergency procedures with guests of all abilities. The Museum has a lift to help visitor's comfortably access the Mezzanine in the Science and Imagination Gallery. The Children's Museum of Sonoma County is trained to look for and reunite lost children with their families as quickly as possible. Our staff members are easy to identify in their neon green aprons. If a parent becomes separated from a child, they should alert a staff member as soon as possible. The Museum has procedures in place to send information out to individuals staffing the Museum exhibits to look for lost children. 
I'd like to plan another visit, what are ways to do that?
You and your family are welcome here at any time! If you would like to plan a visit during regular operating days outside of our Sensory Friendly Afternoons, a quieter time is weekday afternoons (the Museum is closed on Tuesdays).
 
If the sound in the galleries becomes too much during regular operating days, ear defenders are always available in our Parent Resource Center in the Calming Bins. If your child has light sensitivities, we suggest bringing along a pair of sunglasses for them to wear, or finding a pair in our Calming Bins.
How can I support Sensory Friendly Afternoons?
We want to make Sensory Friendly Afternoons the best they can be. We appreciate feedback or suggestions for improvements. Is there another organization that should be present? Tell us who it is and who we should reach out to. If you'd like to financially support this programming, please contact our Advancement office at advancement@cmosc.org.
Museum Visit Story Guide
1. Today I am going to The Children's Museum of Sonoma County.
2. When I get to the Children's Museum I will walk to the front door.
3. I will go through the front door and wait while my grownup checks us in. I will wait for my grownup to say it's okay to go play.
4. I will see happy staff members in bright green aprons. If I get lost, or have a question, I can ask them for help.
5. I can look at my map and choose where I want to play.
6. I will see lots of different things at the Children's Museum, like, a room just for making art, a caterpillar egg and a train up above my head.
7. I must remember to use my walking feet and stay with my grownup at all times.
8. I will see a small city where I can play. I can pretend to be a chef, a doctor, and a construction worker.
9. Outside, I will see a small river where I can play with water and plastic fish. It is OK if I get a little wet.
10. I cannot put my feet in the water outside.
11. Some things might make sounds. Some things might have bright lights. I can use my words or show a picture saying I need a break.
12. There are places to take a break. I can sit in a cool, quiet and dim room.
13. If I need to go to the bathroom, I can tell my grownup and they will take me.
14. My grownup will tell me when the Children's Museum is all done. It will be time to go home.
15. I will have fun at the Children's Museum today. That makes me happy.
Libreta para mi visita al museo
1. Hoy voy a ir a The Children's Museum of Sonoma County.
2. Cuando llegue al Children's Museum, caminaré hacia la puerta principal.
3. Voy a pasar por la puerta principal y esperaré mientras mi adulto nos registra. Esperaré a que mi adulto diga que está bien ir a jugar.
4. Veré a miembros del personal felices con delantales verdes brillantes. Si me pierdo, o tengo una pregunta, puedo pedirles ayuda.
5. Puedo mirar mi mapa y elegir dónde quiero jugar.
6. Veré muchas cosas diferentes en el Children's Museum, como una cuarto para hacer arte, un huevo de oruga y un tren por encima de mi cabeza.
7. Debo recordar usar mis pies para caminar y quedarme con mi adulto en todos momentos.
8. Veré una ciudad pequeña donde puedo jugar. Puedo fingir ser un chef, un médico y un trabajador de la construcción.
9. Afuera, veré un pequeño río donde puedo jugar con agua y peces de plástico. Está bien si me mojo un poco.
10. No puedo meter los pies en el agua afuera.
11. Algunas cosas pueden hacer sonidos. Algunas cosas pueden tener luces brillantes. Puedo usar mis palabras o mostrar una imagen diciendo que necesito un descanso.
12. Hay lugares para tomar un descanso. Puedo sentarme en un cuarto fresco, tranquilo y oscuro.
13. Si necesito ir al baño, puedo decirle a mi adulto y ellos me llevarán.
14. Mi adulto me dirá cuando hayamos terminado en el Children's of Sonoma County. Será tiempo de ir a casa.
15. Me divertiré en el Children's of Sonoma County hoy. Eso me hace feliz.