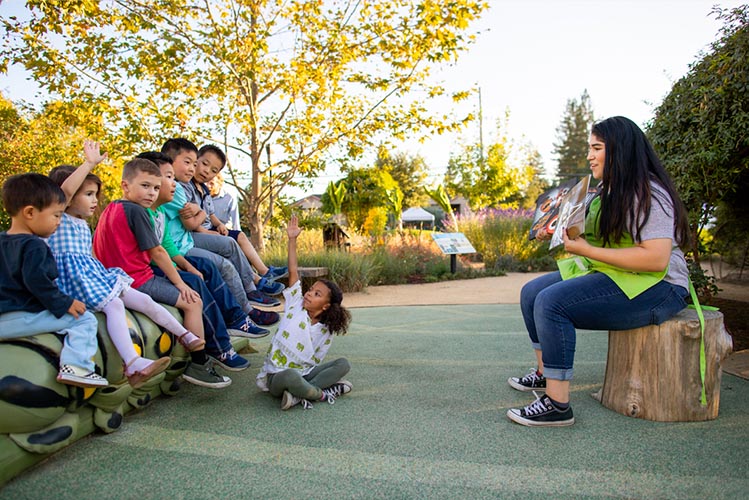 Hours and Admissions
Monday: 9:00 am – 4:00 pm
Tuesday: CLOSED
Wednesday: 9:00 am – 4:00 pm
Thursday: 9:00 am – 4:00 pm
Friday: 9:00 am – 4:00 pm
Saturday: 9:00 am – 4:00 pm
Sunday: 11:00 am – 4:00 pm
CLOSED: Nov 25, and Dec 24 & 25, 2021 along with Jan 1, 2022
OPEN ON SELECT TUESDAYS: Nov 23, Dec 21, & Dec 28, 2021
Member Mornings:
*Time Reserved for Members Only
Sunday: 9:00am – 11:00am
Holiday Closures
New Year's Day
Easter
July 4th
Thanksgiving Day
Christmas Eve Day
Christmas Day
Updated Mask Policy at the Children's Museum
(effective 09/27/2021)
The Museum does not require masks in our outdoor spaces. While proof of vaccination is not required, we encourage unvaccinated guests to continue to wear a mask.

In all indoor spaces masks are strongly recommended for guests age 2. Masks are required indoors for all guests ages 3 and up.

Thank you for your understanding and support. If you have any questions about this updated mask requirement, please contact us info@cmosc.org.
Pricing
Adults and children
$14
Babies 0 – 11 months
FREE
Members
FREE
Seniors (62+)
$11
Military (ID required)
$11 (limit: up to 4 people)
Teacher
(with CTA card or school ID)
$11 (limit: up to 4 people)
ACM Reciprocal Memberships with card and ID
$7 (limit: up to 6 people)
EBT Cardholders with card and ID
$2 (limit: up to 6 people, including the cardholder)
Gift Cards
Give the gift of play at the Children's Museum of Sonoma County! eGift Cards can be redeemed towards admission, membership or retail.
Children's Museum Admission Policies & Guidelines
General Admission Policies
For the safety of our guests, adults who are not accompanied by children are not allowed in the Museum without prior arrangements.
The Children's Museum requests that at least one adult caregiver be present for every 4 children.
All children must be accompanied by an adult over 18 AT ALL TIMES. Please do not leave your child unattended or unsupervised anywhere inside the Museum.
If you are planning to bring more than 8 people to visit, please see our Group Visits page.
On occasion, the Children's Museum may be closed for facility upgrades or private events. We do our best to notify both members and the general public of any closures. Open days and hours are subject to change without prior notice. Please see our calendar for a complete and current listing of closures or special events.
The Children's Museum of Sonoma County accepts cash, check, Visa, MasterCard, Discover and American Express.
Children's Museum Members Policies
The Children's Museum memberships provide free admission during regular open days. However during select events and birthday parties, admission rates apply for members. Discounts may be available.
Other Ways to Visit
Group Visits
Learn more about Group Visits at the Children's Museum.
Sonoma County Library Discover & Go
Parents with a library card may apply for free admission passes through the Sonoma County Library Discover & Go Program.
Open Door Policy
The Children's Museum does not turn away visitors due to lack of funds. Families are welcome to visit the museum on a pay-what-you-can basis. To participate, tell the front desk staff that you wish to enter under the open door policy.
View our Cleaning Policies here.
---
For more information, please see our FAQs
Special thanks to our generous Museums For All Sponsors: