Our Museum-on-the-Go program delivers playful transformative experiences to the diverse audience of Sonoma County. Committed to building connections in our community, Museum on-the-Go participates in community family events in order to bring our unique programming to children who may not otherwise get the opportunity to visit our permanent Santa Rosa location.
Museum-on-the-Go typically features collaborative STEAM-based activities such as build-you-own rockets (and launch them too!), nature-based creative arts, exploring physics concept with balls and ramps, and construction projects with Keva planks and Imagination Playground blocks. Museum-on-the-Go activities are most appropriate for children ages 3-10.
If you would like to bring Museum-on-the-Go to your event, please fill out the below form: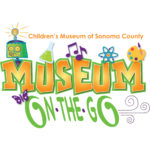 The Museum will be in touch during business hours, Monday through Friday.
For questions and further info, please email: outreach@cmosc.org.