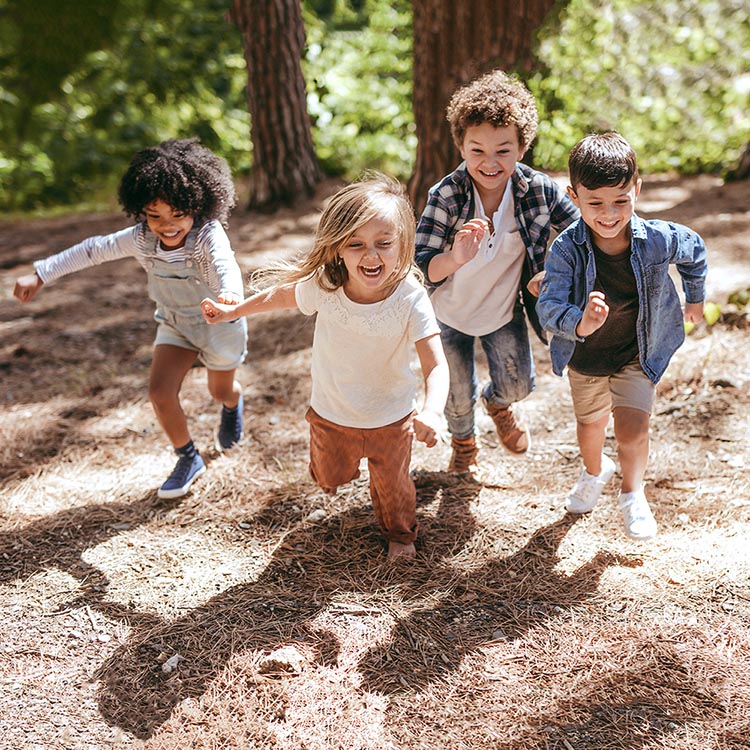 The Benefits of Physical Activity for Kids During Early Childhood Development
Any parent or caregiver will probably agree that letting a child run around and play throughout the day benefits everyone – and there is plenty of science that backs this up! Studies demonstrate time and time again that children who are more active on a daily basis tend to act out less and have an easier time focusing on important tasks including school work.
Regular physical activity also helps young children:
Build endurance and develop strong muscles and bones
Maintain good sleeping patterns
Improve fine motor skills including balance, dexterity, and flexibility
Develop better social skills
Maintain healthy habits into adulthood
Form a positive outlook on health, including weight and diet
Have more confidence in their abilities
And more!
Encouraging little ones to partake in physical activities outdoors also has a number of advantages during early childhood development. You can read our previous blog post, "The Benefits of Outdoor Play in Early Childhood Development" to learn more!
How Much Physical Activity Should Children Have Every Day?
The best way to determine a daily physical activity routine that will benefit your child is to consult with their pediatrician or primary care provider. The following suggestions come from The Physical Activity Guidelines for Americans guide, published by the U.S. Department of Health and Human Services. This outline is designed to provide evidence-based guidance to encourage people of all ages to maintain their health through physical activity.
Toddlers: Ages 2-3
Toddlers should be encouraged to participate in about 60 minutes of physical activity (active play) throughout the day, every day. By this age range, they will be walking, running, kicking, throwing, and reaching for just about everything they can get their hands on. Presenting them with constructive opportunities to practice these motor skills is essential to healthy development.
Preschoolers: Ages 3-5
Preschoolers, three to five years of age should spend at least 3 hours a day being physically active. Active play for children this age should include fun aerobic exercises like running around, catching and throwing, swimming, riding a bike, etc. Aside from sleeping, preschool-age children should not be inactive for prolonged periods of time. So the more opportunities they have to be active, the better it is for physical development.
Adolescents: Ages 6 – 12
By the time children are adolescents, they should be engaging in 1 hour or more of aerobic exercise and strengthening activities daily. They should be encouraged to participate in more moderately challenging activities like playing sports competitively, as well as strengthening bones and muscles by doing things like jumping rope or climbing.
Teens: Ages 13 – 17
By thirteen and on, most teenagers should participate in at least an hour of moderate to vigorous physical activity a day. By this time, young adults should create an exercise routine that incorporates aerobic activity like running, swimming, or cycling, and strength training exercises like weight lifting.
4 Fun Ways to Encourage More Physical Activity in Kids
Parents and caregivers are responsible for the wellbeing of the children they look after, so encouraging little ones to be more physically active is important. Here are four ways you can encourage children of any age to participate in more physical activity every day:
1. Make Exercise Fun
Every child will have their own preference for what physical activities they think are fun, so it's important to talk with them to learn what activities they enjoy doing most. This will allow you to incorporate their interests into their active playtime so they can start building a positive relationship to being active and healthy.
2. Get the Whole Family Involved
No matter your age, finding time to be more physically active can have many positive effects on your well-being. Plus, with the whole family focusing on maintaining or improving their health, you are also able to spend more quality time together. Plan family hiking trips, bike rides around the neighborhood, or a day at the pool swimming! The more everyone enjoys the activity, the more fun it will be for everyone.
3. Set a Positive Example
If your little ones see how much enjoyment you get from playing sports, cycling, or any other physical activity, they will be more apt to join in or try it for themselves. It's also important to remember to not put yourself down for not meeting a physical goal or losing a sports game. Set the example of being a good team player, as well as an encouraging coach to yourself and your kids.
4. Provide Age Appropriate Opportunities
Joining a sports team, or taking a dance class or karate class are all fun ways to get little ones engaged in active play and develop important life skills at the same time. You can also provide constructive opportunities for your children to be more active throughout the day, without even leaving the house! By providing them with active toys like jump ropes, sports balls, bikes, scooters, or Hoola hoops they will keep themselves up and active to their heart's desire!
The Children's Museum of Sonoma County Has Resources to Help Kids Stay Active!
At The Children's Museum of Sonoma County, we work hard to provide families with valuable opportunities and resources that are fun, engaging, and educational. Our PLAYology Playbook blog is full of at-home activities you can do with kids of all ages including many ideas to get your little one up and moving!
We also invite you to visit the museum and enjoy valuable active playtime with the CMOSC team!