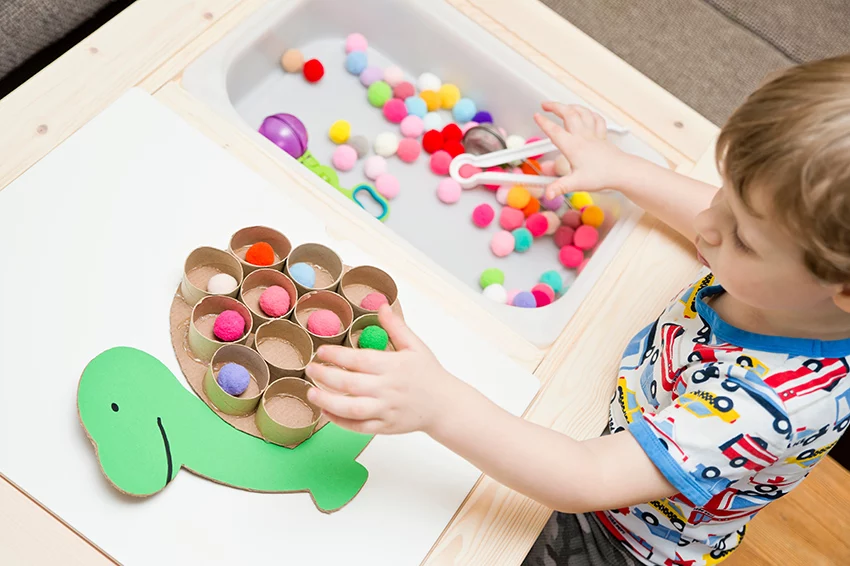 What is STEAM Learning for Toddlers?
STEAM – similar to STEM – is a fun and engaging educational pathway that encompasses five key fields of learning:
Science
Technology
Engineering
Art
Math
STEAM learning is designed to provide children with learning opportunities that combine fun hands-on activities with experiences that aid in their fundamental development. This balance of education and play naturally encourages young minds to ask questions, try new things, engage with their peers, and explore the world around them!
6 Ways STEAM Learning Benefits Early Childhood Development
Children, even as young as preschool age can benefit from STEAM-based learning activities! Below, we outline some of the key benefits STEAM learning can have on early childhood development and beyond.
1. Establish a Lifelong Love for Learning
STEAM activities and projects are designed to get little learners excited about developing new skills by presenting these opportunities through fun and valuable experiences. This can help children build a positive relationship with learning at a very young age and make transitioning into higher learning levels easier, and more exciting.
Establishing a healthy outlook on learning and academics in their early years can also lead to new experiences and opportunities later on in life that children may have otherwise not pursued.
2. Build Confidence and Self Esteem
This hands-on approach to learning is not only fun and engaging, but it can also help children feel more confident in themselves and in their abilities. For instance, many STEAM activities help kids learn how to use specific tools to achieve different tasks — like learning to use scissors to cut paper, or a mixing spoon to stir up ingredients.
As young learners interact with simpler tools, they start to learn how to accomplish tasks on their own, improving their motor skills and supporting their self-esteem and confidence. This can also help them better assess situations and determine when they need to ask for help.
3. Develop Critical Thinking Skills
This method of learning goes beyond simply memorizing facts and details. The STEAM approach teaches children how to process information effectively – Think of it like learning how to learn!
Through fun experiments, STEAM learning activities encourage children to hone their observation skills, find patterns, analyze results, and predict outcomes. Introducing this type of scientific thinking to little learners instills essential critical thinking skills, and helps them become better problem solvers.
4. Nurture Creativity
The world's greatest scientists, mathematicians, and engineers, all utilize creative thinking to find innovative solutions to the most challenging problems. Providing opportunities for children to be creative, and encouraging them to use their imaginations can benefit every aspect of their development.
STEAM learning encourages creative minds to think outside the box, see things from different perspectives, and use tools and materials in new ways. The imagination of a toddler is limitless, and with a little STEAM, they can be one of the greatest minds of their generation!
5. Improve Communication Skills
For toddlers and preschool-age children, playing is the most natural way to learn new words and phrases. The STEAM approach to learning focuses on letting children explore and experiment with new materials, tools, and concepts. This naturally helps build their vocabulary and hone their communication skills in a positive environment.
An enriched vocabulary can help children share their thoughts, opinions, and emotions, more effectively. This can help them feel more comfortable speaking up or having conversations with their peers, allowing them to develop strong relationships.
6. Aids in Sensory Development
Before babies can even crawl they have already been hard at work using their five basic senses to learn about and interact with their environment: smell, taste, touch, sound, and sight. In a STEAM setting young learners are encouraged to use these senses to explore, observe, and learn!
Through fun and engaging activities, children are introduced to new textures, noises, smells, and situations – in a no-expectations environment. This allows them to naturally develop positive connections to new and different sensory information.
Discover S.T.E.A.M. Learning at The Children's Museum of Sonoma County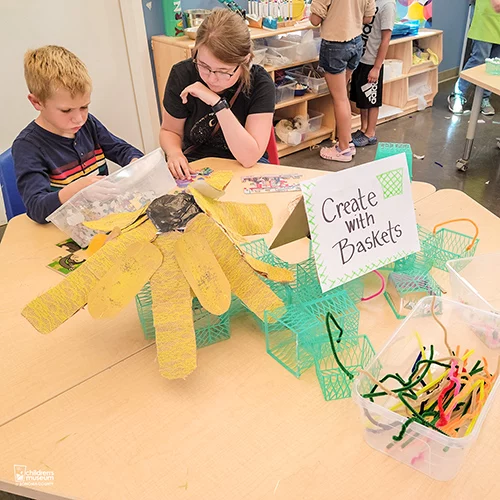 The Children's Museum is dedicated to providing a safe and accessible space for all children to wonder, explore, and discover. Through fun and interactive exhibits and daily programs, we aim to provide visitors of all ages, abilities, and stages of learning with a hands-on way to learn about the world around them.
We invite you to join us for a day of play and learning at the Children's Museum! Visit us every Saturday and Sunday to experience our new S.T.E.A.M. Room program! This space is designed to allow children to engage with new tools, practice new skills, and participate in fun activities at their own pace. All the materials are provided for little learners to explore and experience the wonders of Science, Technology, Engineering, Art, and Math up close!
Our PLAYology Playbook blog is another great resource for families to find fun STEAM activities you can do with kids of all ages at home! Sign up for our newsletter to learn about upcoming events, programs, and special happenings at the museum!
Sign up for E-News!
Sign up for E-News Form