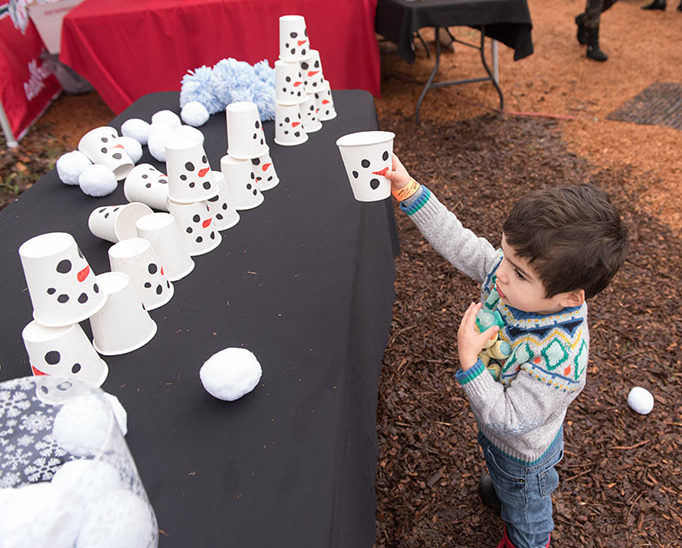 A Letter from Museum CEO About Replacing Snow Days Event with New Frozen Frenzy Celebration
The CMOSC Team is excited to introduce a new event for the Children's Museum of Sonoma County called Frozen Frenzy! This new celebration is set to replace our annual winter Snow Days experience. In past years, Snow Day was held at the museum every January and involved 50 tons of ice being trucked into the Museum over three consecutive days to create a snowy wonderland.
In accordance with local shelter-in-place mandates, our 2021 Snow Days event was canceled, but this prompted our organization to reflect on the event as a whole. To live more truthfully and protect our planet for future generations, we have concluded that Snow Days does not truly fit within our core values and principles and therefore is not a viable event for the Children's Museum going forward.
A core value of the Museum is to pursue sustainable practices.
To be an effective and enduring resource for the region, we are committed to financially sound, programmatically compelling, and environmentally responsible practices that are responsive to a changing world.
For many reasons, Snow Days simply does not comply with these core values.
What does 50 tons of ice really look like?
Did you know that 50 tons of ice is equal to 5,000 twenty-pound bags of ice? The snow for the event is created by feeding bags of ice – like what you find in a grocery store – through a woodchipper and then distributing it through a hose.
So, what happens to the thousands of bags after they are emptied? They go into the landfill. Ugh! Our hearts ached as we watched workers fill garbage cans with thousands of empty plastic bags as more snow was created each day of the event. No matter how enjoyable an experience it might be, hosting an event that results in so much plastic waste is not a sustainable practice in our view.
Hot days in January!
Excluding the year the Museum was closed due to the pandemic, Snow Days has been hosted every January when the weather in Sonoma County is usually the coldest. As our seasonal weather patterns become less and less predictable, successfully creating a winter wonderland becomes even more of a challenge.
In 2021, the temperature reached an incredible 80-degrees on the same weekend Snow Days would have normally occurred. We all know what happens to ice when you have a hot day…it melts! As you can imagine, little or no snow at a Snow Day celebration is sure to cause a very disappointing visitor experience
Frozen Frenzy is a brand-new event in place of Snow Days!
The Children's Museum team has been hard at work planning a new winter event that provides a fun-filled experience for everyone and corresponds with our core values as a museum. We are excited to host our first of many Frozen Frenzy celebrations on January 15th, 2022, and believe it will put smiles on faces and create joyful memories to last a lifetime.
We love knowing that Snow Days has brought so much enjoyment to guests over the years, and it has been a hard decision for all of us to come to. Ultimately, we are committed to doing our part to protect the well-being of our staff, our community, and our planet as a whole.
If you have any questions, please don't hesitate to email me at collette@cmosc.org. We are so grateful for our members and visitors and look forward to continuing our work in providing you and your loved ones with joyful, transformative experiences.
With gratitude,
Collette Michaud, CEO