Dear CMOSC Members and Friends,

In just a short span of a week, the world has turned topsy-turvy. We have all experienced myriad changes and have had to make difficult decisions at lightning strike speed. We did not create these difficult conditions, but we must make the best of them.

We share your pain surrounding the impact of COVID-19 on the global economy, and our personal livelihoods. Our hearts go out to those who may be sick or have lost loved ones.

The Museum will remain closed until April 28th. Although children cannot play in the physical space of the Museum at this time, our mission continues. You can find CMOSC at-home activity ideas on our website any time!

Museum Memberships will be extended by the full duration of the closure so that families receive their complete year of Membership.

Every Wednesday we'll send a Weekly Wonderings email of activities and resources created and curated by the CMOSC Team. Each Wednesday will include: Ideas for activities to try at home Storytime videos Educational resources Fred Rogers—a.k.a. Mr. Rogers—tells of his experience as a child. "When I would see scary things in the news, my mother would say, 'Look for the helpers. You will always find people who are helping.'" We will triumph over the epidemic, in part, because hundreds of thousands of Americans made a commitment to be the "helpers" in our society.

We commend YOU, the parents and caregivers, who are the "helpers", and now educators too, for your children. The Museum is here for you! And finally, we appreciate the children for lighting up our lives and reminding us that joy and love are what truly sustain us during times like these.

We'll continue to communicate and provide updates on the Museum. We look forward to welcoming you back in warmer months through open doors and with open hearts.

Until then, stay safe and healthy. Enjoy the beautiful weather and the parks, beaches, and outdoor areas we are so fortunate to live near. Enjoy the company of loved ones. And above all – remember to play!

Warmly,
Collette Michaud
Founder and CEO
---
Simple Finger Puppets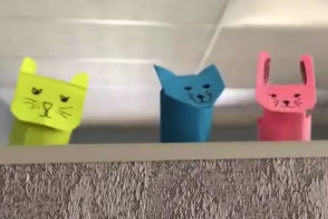 Speaking of playing, have you seen our video for how to make simple finger puppets? Check it out, here!