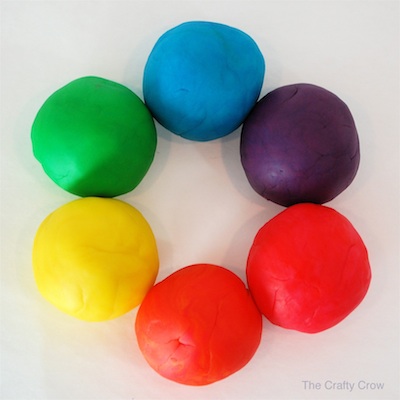 Ingredients
2.5 cups water
1 ¼ cup salt
1 ½ tbsp cream of tartar
5 tbsp vegetable oil
2.5 cups flour
Food coloring or liquid watercolors (optional)
Directions
Mix everything but the food coloring together in a large pot until somewhat smooth. It will be lumpy. Not to worry, the dough will get smoother as it cooks.
Cook the dough over a low heat. Mix frequently. The water will slowly cook out of the mixture and you'll notice it starts to take on a sticky dough appearance. Keep mixing until the edges of the dough along the side and bottom of the pan appear dry. Pinch a piece of the dough, if it's not gooey, it's ready.
Place the dough on a countertop or large cutting board that can withstand a little food coloring. Knead the warm dough until it's smooth and then divide it into the number of colors you want to make. Flatten each ball, add coloring and knead in.