Celebrate Diversity this Holiday Season by Cooking With Children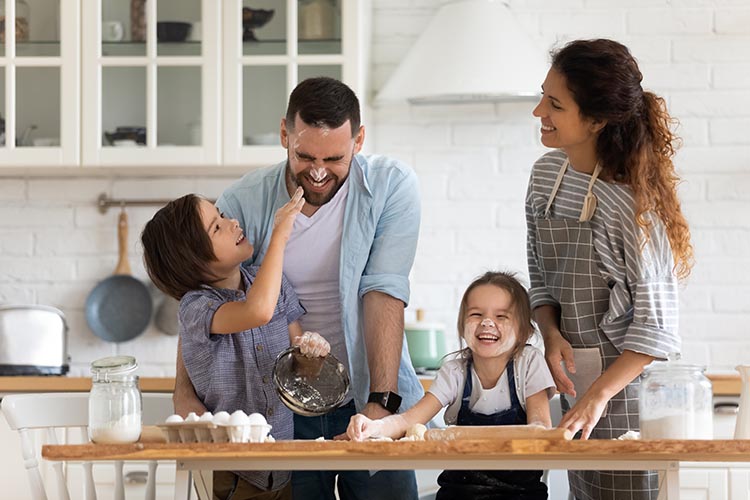 Food is the main ingredient in many family holiday celebrations and cultural practices around the world. A great way to teach your little one about diverse holiday traditions is by cooking up some kid-friendly holiday recipes together!
Children love any reason to celebrate, and introducing them to new cultures through cooking can have lifelong benefits.
The Benefits of Cooking with Children
Develop Life Skills
Relationship Building
Self-confidence
Willingness to try new things
Encourage Creativity
Fun Math and Science Practice
And much more!
Watch CMOSC Bake Holiday Cookies!
4 Kid-Friendly Holiday Recipes From Around the World to Cook at Home
It may take a little prep work on your part (and come with some accidental spills), but your time cooking together can hold many benefits for both of you. This season, learn more about how families from around the globe celebrate with these kid-friendly holiday recipes:
1. Kwanzaa Fried Bananas
Kwanzaa is celebrated from December 26th – January 1st, every year, by many people of African descent. In Swahili, 'Kwanzaa' means 'first' and signifies the first fruits of the harvest. Each day, family and friends light one of seven candles in the Kinara (a traditional candle holder) to burn for each night of Kwanzaa.
On the sixth night of Kwanzaa (kuumba), friends and family gather for a traditional Karamu feast. One yummy Karamu dessert is fried bananas!
What You'll Need:
Bananas
Juice from a lemon
Ground cinnamon
Butter
Fried Banana Recipe
Peel your bananas and carefully slice them into bite-sized pieces.
Add a small amount of your fresh lemon juice to each banana piece.
Sprinkle your banana slices with your ground cinnamon.
Have an adult heat a frying pan with a generous amount of butter and fry each side of your banana slices.
Let your fried banana slices cool and enjoy this yummy Kwanzaa snack!
2. Hanukkah Potato Latkes
Hanukkah is celebrated by many people of the Jewish faith as a "festival of light". Friends and family come together for the eight-day celebration to light a candle on a Jewish menorah (traditional candle holder) called a Hanukkiah.
Each night after a candle is lit and blessings are recited, children open one present and everyone enjoys traditional Hanukkah foods, such as latkes!
What You'll Need:
Russet potatoes (1lb.)
Onion (1)
Eggs (3-5 beaten)
Salt + Pepper (to taste)
All-purpose flour (½ cup)
Canola oil (for frying)
Applesauce or sour cream to garnish
Latkes Recipe:
Peel all your potatoes and your onion and grate them into a large bowl.
Crack all your eggs in a small bowl and whisk until fully combined.
Thoroughly mix all your grated potatoes, onion, eggs, salt, and pepper to make your latkes batter.
Carefully spoon your latkes batter into the hot oiled pan – Caution! The pan and oil will be very hot and can cause burns.
Fry your latkes for about five minutes on each side or until golden brown.
Very carefully remove latkes from the pan and place them on a paper towel covered plate to cool.
Garnish latkes with a pinch of salt, and serve them with a dollop of apple sauce, sour cream, or enjoy them on their own!
3. Chinese New Year's Sweet Rice Balls (Tang Yuan)
The Chinese New Year (or Lunar New Year) is a 15 day celebration that starts in January or February. This year, it starts on February 12th.
Traditionally, Tang Yuan are served during the Lantern Festival, celebrated on the 15th day after Chinese New Year. These sweet rice balls symbolize family togetherness, making this a great dessert to enjoy with your family!
What You'll Need:
Glutinous rice flour (1 cup)
Light coconut milk (1 can)
Brown sugar (1 cup)
Shredded and sweetened baking coconut (½ cup)
Canola Oil (½ teaspoon)
Salt (½ teaspoon)
Sweet Rice Ball Recipe:
Pour your rice flour into a bowl and mix in your salt.
Slowly add ⅓ of your can of coconut milk and combine it with your flour mixture to form the dough. Your dough should be the consistency of playdough.
Take small pieces of dough and roll them into bite-sized balls.
Use your thumb to make a deep indent in the tops of each ball and add ½ teaspoon of brown sugar to each indent.
Pinch your rice ball closed to conceal the brown sugar inside.
Bring a large pot of water to a boil on the stove and carefully place each rice ball in the boiling water with a slotted spoon.
Allow all your rice balls to rise to the surface of your boiling water and wait for two minutes for them to fully cook.
Carefully remove your rice balls from the water and place them on a lightly oiled surface and allow them to cool.
Once your rice balls are cool enough to touch, roll each one in the shredded coconut until they are fully coated.
Place your rice balls on a clean plate and enjoy your sweet treat!
4. Yule Sugar Cookies
Yule is a celebration observed by the Germanic peoples during the Winter Solstice. This day marks the longest night of the year, and when the days begin to grow longer. Yule celebrations center around feasting on delicious foods and general merriment to usher in a prosperous year. One way you can celebrate Yule is by baking Yule sugar cookies with your family!
What You'll Need:
Butter (1 cup)
Sugar (1¼ cups)
Grated lemon peel (2 teaspoons)
Salt (¼ teaspoon)
Flour (1⅓ cups)
Grated almonds – blanched (1½ cups)
Vanilla extract (1 teaspoon)
Sifted powdered sugar to top (1 cup)
Yule Sugar Cookie Recipe:
Preheat your oven to 325 degrees Fahrenheit.
Combine your room temperature butter and sugar in a mixing bowl.
Add your grated lemon peel, salt, flour, grated almonds, and vanilla extract into the bowl with your butter and sugar and mix into a dough.
Once your cookie dough is ready, roll it out on a clean surface and cut your cookies into any fun shape you want!
Place your cookie shapes on a baking sheet ½ inch apart and have an adult put them in the oven to bake for 8 – 10 minutes.
Carefully remove your baking sheet from the oven and let your cookies cool.
Wait until your cookies are completely cool to the touch and dust each one with powdered sugar on top.
Enjoy your delicious yuletide cookies!
Share Your Family Traditions and Kid-Friendly Holiday Recipes with The Children's Museum of Sonoma County
Does your family have a favorite dish or meal you make during certain times of the year? Every family recipe is a special piece of your heritage and a beautiful way to celebrate your family! The Children's Museum of Sonoma County wants to hear about your favorite holiday traditions and recipes!
Follow and tag CMOSC on Social Media: