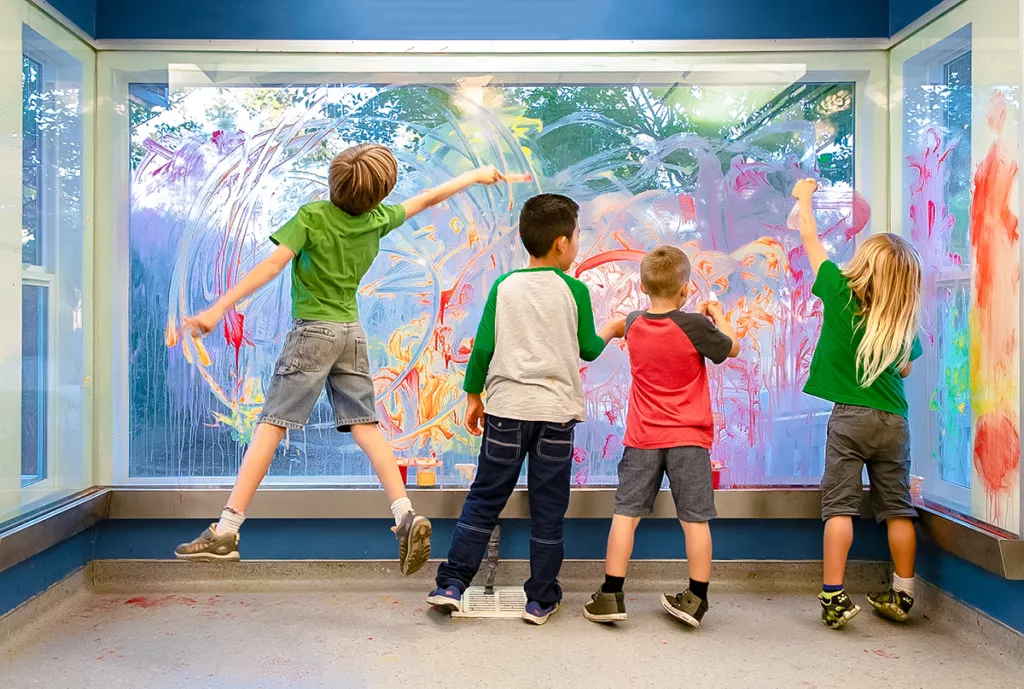 Benefits of Arts and Crafts During Early Childhood Development
Arts and crafts have always been an important aspect of early childhood education. Creative learning projects can foster a child's natural imagination, and also helps them develop other essential life skills that will stay with them for years to come. In this blog post, we'll look at the importance of arts and crafts for early childhood development, and provide creative activity suggestions from our PLAYology Playbook.
How Do Arts and Crafts Help Kids Learn?
Arts and crafts provide a fun and interactive way for children to practice things like their fine motor skills and their problem-solving capabilities. For instance, before learning how to use more advanced tools like screw drivers and hammers, many kids discover their love for building and design through simple playdough projects.
Art activities can help children develop many important life skills including:
Creativity and Imagination
Self-Expression
Confidence and Independance
Fine Motor Skills
Problem Solving
Hand-Eye Coordination
Social Skills
Critical Thinking
It's important to remember that every child's learning style and speed of development is going to be unique. Our goal is to provide a starting point for caregivers to choose activities that are developmentally appropriate for the children in their life. The following art activities are designed to encourage creativity and learning through play, and the age ranges listed are just a general guideline.
Sensory Art Activities for Kids Ages 1-5 Years Old
Sensory play can be any activity that engages a child's senses – smell, taste, touch, sound, or sight. When you incorporate sensory play with art activities, kids come into contact with new textures, smells, sounds, and situations without any preconceived notions or expectations. This allows them to naturally develop positive connections to materials as well as new sensory information.
Below are a few of our favorite sensory art activities for preschoolers from our own PLAYology Playbook blog.
More Sensory Art Activities to Try at Home
Arts and Crafts Activities for Kids Ages 6-8 Years Old
As children begin to develop a stronger understanding of artistic concepts like colors, shapes, and patterns, they also become more independent in their creativity. They'll start to come up with their own unique ways of creating things, and naturally learn how to use more complex tools and art materials.
While they may still need guidance and supervision, allowing kids free time to play and create encourages them to experiment and be resourceful. This also provides children the opportunity to learn how to confidently use new tools and utilize problem solving skills to achieve more complicated tasks. In our blog, we have countless creative learning activities for school-age children, but here are some of our most popular.
More Arts and Crafts Activities for Kids
Creative Learning Activities for Kids Ages 9-12+ Years Old
More intricate arts and crafts projects can be fantastic creative learning tool. In addition to fostering creativity, these art projects can also incorporate other fields of learning, such as science, engineering, math, and more! By combining these subjects with art, children can develop a deeper understanding of each and discover new ways to approach problem-solving and critical thinking.
Below we have listed some of our favorite art projects that provide a fun and engaging way for children to explore their creativity while learning new skills and concepts.
More Creative Learning Activities for Kids
Creative Learning Programs for Kids at The Children's Museum of Sonoma County
Arts and crafts encourage children to be creative and use their imagination while also providing a fun and interactive way for them to naturally develop essential life skills. Whether they're exploring art through sensory play or learning how electricity works with DIY craft projects, the benefits of creative activities are endless.
At the Children's Museum of Sonoma County, we believe in the power of play-based learning and we are dedicated to providing opportunities for children to explore, discover, and create. We invite you to celebrate the magic of art and imagination with us in Ella's Arts Studio! We host a variety of creative learning programs to inspire and engage children of all ages, including our monthly Sewing Creations Program! Come explore the art of sewing and make something special to take home!