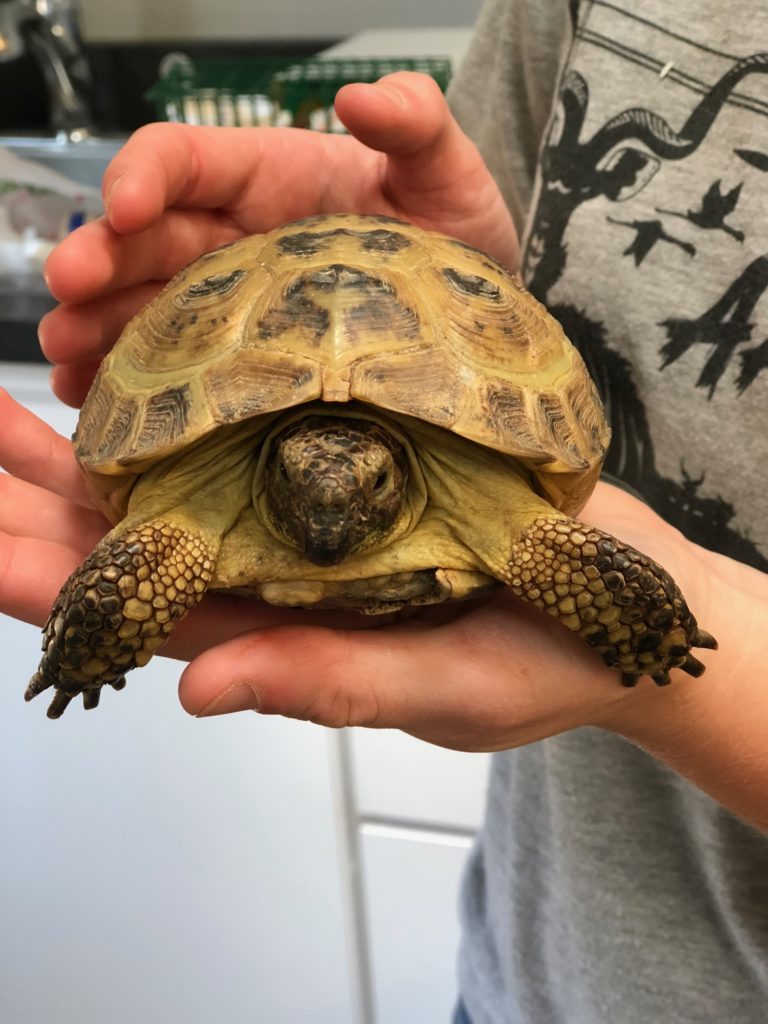 Check out our list of science speakers who have visited the Children's Museum!
Sep 2015: The Garden Menagerie, Frederique Lavoipierre
Explore the world of garden insects with Frederique Lavoipierre in this fantastic presentation – fun for all ages! Following the lecture, we will have an opportunity to view insects up-close through the lens high-quality stereoscopes, and meet a few of Lavoipierre's 6-legged friends. Leave with a sense of wonder and a desire to further explore your own backyard insect menagerie!
Frederique Lavoipierre is the Director of Education at the Santa Barbara Botanic Garden, where the focus is on California native plants, and the emphasis is on two of her passions – science and horticulture. Previously, she worked at Sonoma State University, where she developed and coordinated the Entomology Outreach and Garden Classroom Programs. She was the founding director of the SSU Sustainable Landscape Program and is establishing a similar program in Santa Barbara. Lavoipierre is the author ofGarden Allies, a series for Pacific Horticulture magazine, completing its 9th year of publication. She holds an MS in Biology from Sonoma State University, where her focus was on sustainable landscape practices and designing habitat for beneficial insects. Her favorite ice-cream flavor is salted caramel, and the scientist who most inspired her (besides her dad) is Jean-Henri Fabre. Following completion of the Garden Allies series next year, she will compile her articles into a book of the same title.
Oct 2015: The Wonderful World of Worm Composting, Jack Chambers
Red Wigglers…Eisenia fetida
"Worms are the intestines of the earth." — Aristotle
The Sonoma Worm Farm sees a world where more food is grown locally, on smaller farms, using worm technologies to produce better food. Jack Chambers, Owner of Sonoma Worm Farm, will show us his worm farm and explain the science behind it. Following the presentation, Chambers will set up a worm bin at the Children's Museum for visitors to observe!
Jack Chambers, a former airline pilot, visited a worm farm in 1992. He fell in love with the worms and ended up buying the worm farm! When Chambers was a child, his first pet was a beautiful black Cocker Spaniel named Smokey. His favorite ice cream is vanilla with a caramel swirl… Heath bar bits are helpful additions, too. His favorite scientist/inventor is Steve Jobs because his inventions have had a profound effect on how people relate to each other around the world. Chambers' hidden talent is wine making and he labels under the name Worm Farm Red. Chambers looks forwards and works for the day when he sees worm farms through out the United States and other countries. After his presentation, Chambers hopes the audience has an increased understanding of the valuable services worms provide. They are top notch recyclers, soil improvers and great microbial engines. Worms rock! Check out this video about the Sonoma Valley Worm Farm!
Nov 2015: A Weird, Wonderful World, Casey Peters
Casey Peter's presentation will focus on HOW we learn about the world around us through scientific exploration and experimentation. He will use examples from many different areas of study, with a larger focus on ecology and natural history. The universe is big, complex, weird and wonderful, and science has helped us learn many exciting— and unexpected— things. The audience will take away a deeper understanding and appreciation of the process of exploring the world through scientific discovery. As well as, the tools and excitement to practice on their own. From simple ideas, like plant identification, to larger concepts, like finding new planets– scientific discovery is everywhere!
Casey Peters is a plant ecologist at UC Davis. He studies the reasons that influence why certain plants grow where they do in nature. Most of his research has taken place in grasslands and forests in California. His favorite ice cream is Coffee Heath Bar Crunch. There are many scientists that he respects, but his favorites are scientists that are especially good at sharing science with people. The top three are Richard Feynman (physicist), Carl Sagan (astronomer), and Steven Jay Gould (paleontologist). An interesting thing about him is that he likes to run and hike long distances in nature.
Jan 2016: Stem Cells And Tardigrades, Julie Mangada
What if I told you that there was a life form that can endure temperatures ranging from 303º down to -328º Fahrenheit? A creature that can endure one-thousand times more radiation than humans can and survive for over 120 years in a state of suspended animation? A critter that is invisible to the naked eye, yet lives almost everywhere? Meet the tardigrade, an extremophile (an organism that thrives in extreme conditions) poised to provide valuable insights into aging while also becoming a celebrity in our Learning Center. Tardigrades, more commonly known as water bears, feature a snout, two eyes, and eight legs with claws. Looking like a cross between a bear and a caterpillar, these microscopic animals are masters at dealing with stress. We can learn by studying these creatures, and Julie's talk will focus on her research of stem cells and water bears.
Julie Mangada is the Education Outreach Coordinator at the Buck Institute, her efforts have lead to the creation of several dynamic new community outreach programs. She works with both Sonoma and Marin Counties' Offices of Education, the GATE program, sit on the Board of the Sonoma County Office of Education Biotechnology Advisory Committee and the Novato Unified School District's STEM Program Steering Committee, and have designed teacher training workshops for both the Exploratorium and the Marin County Office of Education. Through public speaking engagements and visits to the Learning Center I bring an enthusiasm for science to over 10,000 people a year. Julie specializes in immunology, and she coupled her background in immunology with her hESC experience to investigate stem cell epigenetics and how genetic erosion and DNA repair mechanisms contribute to the suitability of hESC in cell replacement therapies..
Feb 2016: Life on the Coral Reef, Erika Woolsey
Often referred to as "rainforests of the ocean", coral reefs are diverse ecosystems that exist in nutrient-poor environments, yet are teeming with marine life. Using gorgeous imagery, marine biologist Erika Woolsey will talk about her research on Australia's Great Barrier Reef and her adventures Down Under and underwater. Erika hopes that audiences will take away a new appreciation for the beauty and importance of coral reef ecosystems, and learn something about the weird and wonderful animals that build them.
Dr. Erika Woolsey has been exploring coral reefs around the world for over a decade. Originally from Marin, she studied marine biology at Duke University. After graduating, she moved to Sydney, Australia where she received her Masters degree and worked as a research assistant and a divemaster. Erika recently completed her PhD at James Cook University in the Australian tropics, near the Great Barrier Reef. Her research, which has been published in multiple peer-reviewed journals, specifically investigates the effects of rising ocean temperatures on coral reef ecosystems. Erika has returned to the Bay Area to be closer to her family, and is looking forward to establishing herself here as a research scientist.
Mar 2016: Green Choices for Children and their Families,
Shelley Flint
The average household uses over 60 different chemical products. This toxic mix we bring to our homes hurts our health, our families and our Planet. Learn how to decipher what's in the products we use every day and the effects they have on your health and our Planet. Many of these products can be easily replaced with greener alternatives or ones you can make yourself with simple ingredients you have at home. This class is hands-on, so you'll also be making a few of those recipes to take home with you!
Shelley Flint is the Director of Sustainability and has over 16 years of experience developing environmental education programs for youth She worked in the State Parks for three years as a Park Naturalist and coordinated AmeriCorps programs at the Marin Conservation Corps serving over 15 schools in Marin County and various parks within the Golden Gate National Recreation Area. She provided AmeriCorps members with training to teach school children environmental education and support schools in building gardens, setting up recycling systems, performing energy and waste audits, and restoring creeks. Shelley is certified in Permaculture and has a Bachelor of Science degree in Developmental Psychology from Longwood University in Virginia.
Apr 2016: How to Think of an Invention, Michael McGinnis
Ever wonder how to come up with ideas, or how to make something that you use work better? I would like to show you how to figure that out. It is OK to make lots of mistakes as long as you keep trying!
I am a cat loving, Choclate-Mint-Chip eating artist who invents games, teaches sculpture and makes interactive museum stuff for kids to play with. Einstein has always been my favorite scientist because he looked funny, really thought about things, and was a very good person. One of my secret talents is that I used to be able to sit on the floor and go right into a hand stand without even touching my feet to the floor, but now I am too old! I was afraid of dogs when I was little, but have met some really wonderful dogs in my life since then. I'm still scared of spiders and scorpions, though I never hurt them. Instead, I get someone else to put them outside. Michael hopes that at the end of his talk you can say, "I can figure that out all by myself!"
May 2016: Illustration, Steve Purcell
Steve Purcell has drawn since he was a toddler, and grew up creating characters and hand made story books. Through the years he has worked professionally as an illustrator, comic book creator, game designer and concept/story artist. He worked with LucasArts Entertainment Company, Industrial Light and Magic and most recently with Pixar Animation Studios as a writer/director on the Academy award winning Brave as well as Toy Story That Time Forgot. Steve will talk about his journey from childhood artist to movie director and lead an interactive drawing lesson in how to create a Disney character. Bring your drawing pencils and sketchbook or just sit back and enjoy this fun and engaging presentation.
Sep 2016: Cheryl Veretto, Planting for Pollinators in All Four Seasons
Cheryl Veretto activist for pollinators – Sonoma County Master Gardener and President of Sonoma County Beekeepers Association. While living in rural SW Sebastopol she propagates, plants and shares bee forage plants while educating about planting for pollinators, the importance of pesticide free gardening -Integrated Pest Management and the wonderful honey bee.
Learn about the honey bee and its role in agriculture and environment. Find out how you can create a garden that can provide a safe sanctuary and forage for honey bees and other pollinators – all year round.
Oct 2016: Guillermo Melantoni, Changing the World One 3D Print at a Time
Guillermo Melantoni works at Autodesk as Product Line Manager for Tinkercad and 123D. Originally from Uruguay, he has a degree in Architecture and worked as consultant and professor at different schools of architecture in Uruguay. In 2008 he became Product Manager for AutoCAD, based in San Francisco and in 2012 he started leading Personal Design and Fabrication on the Consumer Products team. His goal has been to create the most powerful yet intuitive tools that can be used by anybody from 5 to 99 years old that wants to unleash their creativity. He has over twenty years of experience in 3D design and has been working for almost a decade on 3D printing.
"Changing the world one 3D print at a time" will introduce parents and kids to the fascinating world of personal design and fabrication. We are at a pivotal point where manufacturing is changing, every object is becoming smart, and all this revolution will have a huge impact on the education and the jobs of our kids. Let's cover some of the most interesting aspects of this revolution and learn how 3D modeling, 3D printing, programming and electronics will prepare your kids for the upcoming skillsets required.
The audience should be aware that software and hardware that can enable the whole family to create their own objects and even become entrepreneurs is now as available as it ever was. Great projects happen at the intersection of available hardware, software and your own ideas. Bring your ideas and let us introduce you to the possibilities of the new hardware and software
Nov 2016: Casey Shea and Anna VanDordrecht (SCOE): Completely Cool Creative Chemistry
What does a chemist do all day? How does chemistry relate to art, spying, and what we eat? Come find out just how cool chemistry can be and participate in hands-on experiences.
Jan 2017: Dr. "Addie" Adrienne Larocque, Geochemistry
Adrienne Larocque is an award-winning scientist with a PhD. She currently teaches Earth Science at Maria Carrillo High School where she is known as Dr. Addie. She also is an adjunct professor at Santa Rosa Junior College.
Volcanic eruptions can be dangerous and even deadly. They also can create new land surfaces, fertilize soils, and alter our climate. Find out where and why volcanoes occur, and get a hands-on look at different types of volcanic rocks.
Feb 2017: Sean Marshall & Sonoma Country Day School Students: Circuit Bench
Sonoma Country Day School elementary students, led by Network Administrator and Maker Extraordinaire Sean Marshall, built a musical/light up bench as part of their science curriculum and donated the finished product to the CMOSC. Join them on this special evening to hear more about the inspiration that lit up students and adults alike, and the process of bringing the bench, and plenty of learning, to life.
Mar 2017: Aquarium by the Bay
It's Ptough to Be a Pteropod!: Students will measure and observe changing chemistry in an ocean-like environment, explore the complex food web, and discuss potential solutions to slow that change.
Animal Ambassador: Tidepool Invertebrates (with touch tank)
Apr 2017: Russ Scarola: Natural Selection of Round Things
What lies at the intersections of Art and Science? Learning to think of ourselves as designers! Come join us as we build larger than life fall-down-machines turned treacherous ecosystems! Help model natural systems (and human intervention) as we take on the challenge of weeding out the "invasive" round species with recycled materials tricks, traps, and flippers. Can you save the bouncing fish balls? (Likely bonus light painting activity!)
"You haven't learned something until you've created with it!" When not learning from his two adventure seeking boys, Russell Scarola teaches art-integration to future teachers in the Hutchins Department of Liberal Studies at Sonoma State University. Recent community projects have included designing recycled materials mini-golf course and mentoring student projects for the Sonoma County STEAM SHOWCASE. Russ's passions include volleyball, playing guitar, and creative writing, but his biggest joy is in helping people of all backgrounds enjoy science and encouraging more voices to be involved in how best we can guide our human ingenuity.
May 18: Jennifer Alvarez : Creative Writing for Kids
Local author of the Guardians of the Herd book series
Where do authors get their ideas? How do questions become stories? In this fun interactive workshop, children will learn how to turn their own questions and ideas into exciting tales. Elements of the writers' craft will be explored, including plot, narrative tension, and world building. Come prepared to write!
Jennifer Lynn Alvarez received a degree in English literature from UC Berkeley. She is an active horsewoman, a volunteer for U.S. Pony Club, and a proud mother of three children.When writing her Guardian Herd series, Jennifer draws on her lifelong love of horses and animals. The series includes her first four books: Starfire, Stormbound, Landfall, and Windborn. She lives on a small ranch with her husband, children, and more than her fair share of pets. Follow Jennifer on Twitter @JenniferDiaries or on Instagram @jennifer_lynn_alvarez. And to learn more about the Guardian Herd series and find games, quizzes, fan forums, and more, please visit theguardianherd.com
Sep 2017: Sonoma County Wildlife Rescue
Sonoma County Wildlife Rescue strives to give over 1,500 animals a year the best, most current, and most innovative care possible. They also offer educational experiences both on and off-site. They'll be at the Children's Museum to help us learn about our local wildlife and how we can help protect and care for them and their natural habitats.
Oct 2017: Safari West *CANCELED*
The mission of Safari West is to actively promote conservation, environmental education, and share knowledge that will help each individual make personal choices in regards to the environment and conservation efforts. They'll be joining us for a presentation and hands-on exploration of environmental education and conservation.
Nov 2017: The Bird Rescue Center
The Bird Rescue Center is a rehabilitation center for Sonoma County's wild native birds. Our mission is to assist in the rescue, treatment and release of injured, orphaned or ill birds in the northern San Francisco Bay Area, and to educate the public regarding their ecological importance. They will join us at the Children's Museum with two of their Raptor Ambassadors!
Jan 2018: Pacific Coast Air Museum
Join our guest, The Pacific Coast Air Museum, and explore aerodynamics and make balsa wood airplanes!
The Pacific Coast Air Museum (PCAM) is a family-friendly, easily accessible open-air museum. We display over 35 historic aircraft and have indoor exhibits as well. PCAM is located on a five acre parcel at the Charles M. Schulz-Sonoma County Airport and is open five days a week year-round.
PCAM's mission is to Educate and Inspire both young and old about our aviation heritage and space technology, to Preserve historic aircraft and artifacts, and to Honor veterans.
Feb 2018: Erin Dekleva: Why Can't I Eat Grass?
Join us to learn why certain animals like farm animals can subsist entirely on plant matter, while other animals thrive on a diet of meat and plants. We'll explore how all digestive systems are different and how they help the animal obtain nutrients from different types of food.
Mar 2018: Erika Woolsey
During her visit, marine biologist Dr. Erika Woolsey will tell stories of her adventures as an underwater explorer. You'll see imagery from beautiful ocean ecosystems like coral reefs and learn about concepts like symbiosis and sustainability.
Apr 2018: Safari West
The mission of Safari West is to actively promote conservation, environmental education, and share knowledge that will help each individual make personal choices in regards to the environment and conservation efforts. They'll be joining us for a presentation and hands-on exploration of environmental education and conservation.
May 2018: Aquarium by the Bay, San Francisco
The Aquarium by the Bay's mission is to protect, restore, and inspire conservation of San Francisco Bay and its watershed, from the Sierra to the Sea. Using their mobile Bay Lab, visitors will experiment with the science of climate change and meet some animal ambassadors!