Join the Children's Museum of Sonoma County, as we read "The Caboose Who Got Loose" by Bill Peet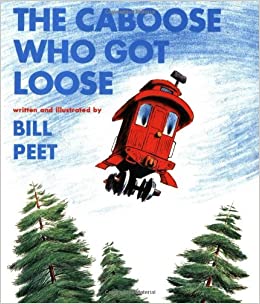 About the Book
In The Caboose Who Got Loose, Katy the Caboose is unhappy with being always being last and is tired of al the dirty smoke, scary cliffs, and long bumpy trips on the train tracks.
Katy watches the passing countryside and daydreams about being a comfy farmhouse, or a cozy cabin instead.
Then one day Katy the Caboose get loose and finds herself in a surprise place! Read along with us and find out where Katy the Caboose ends up!
Share Your Favorite Book with CMOSC!
Do you have a favorite story or picture book you love to read at home? Share your photos or videos of your favorite tales on social media and tag the Children's Museum of Sonoma County! And stay connected to the Children's Museum of Sonoma County and see if your favorite book is featured on our next Storytime!
Check to see if your favorite children's book has already been featured in our Storytime series.
Tag CMOSC!
Instagram: @childrensmuseumsonomacounty | Twitter: @cmosc | Facebook: @cmosc.org