How the Children's Museum Inspires Wonder, Curiosity, and Literacy in Sonoma County Kids
As a non-profit organization, the Children's Museum of Sonoma County is so grateful for all our museum members for playing a key role in supporting our mission. Together, we can continue to inspire a lifelong love of learning in our community's children!
Children's Museums provide an ideal environment for early learners to explore their interests and discover new wonders! Interactive exhibits and hands-on activities provide multi-sensory opportunities that encourage children to experience new things, be creative, and learn important life skills through play!
Members of the Children's Museum of Sonoma County also receive a number of great perks that benefit their children and extended family!
Members Benefits at The Children's Museum of Sonoma County:
Weekly member-only mornings at the museum⁠
Unlimited visits to the museum⁠
Discounts on Wonder Camps & Workshops, birthday parties⁠, and purchases at the Children's Museum Gift Corner
Early access to programs and workshops
Discounted admission to over 200 participating museums in the Association of Children's Museums (ACM) network
Discounter admission at the neighboring Schulz Museum & Snoopy's Home Ice Arena
All of us at the Children's Museum of Sonoma County are thankful to be able to positively impact the lives of the families and children in our community. Through the support of museum members and our donors, we are able to continue expanding our early childhood education programs, maintain popular attractions, and continue to grow our exhibits.
The CMOSC team has been hard at work restoring areas and installing new features in preparation to re-open our doors in 2021. This includes one of the most loved spaces at the Children's Museum – Mary's Garden!
Learning About Mary's Garden at the Children's Museum

Mary's Garden is a space dedicated to exploration, curiosity, and amazement! Our outdoor garden area incorporates hands-on activities, interactive structures, and exhibits for children of all ages. We also host a number of fun literacy programs and other educational workshops for kids in Mary's Garden to continue to inspire a love of learning.
Many of the garden's attractions focus on the importance of our natural resources in Sonoma County and provide a safe and controlled space for children to experience their beauty. The exhibits throughout the Garden playfully introduce the concepts of native wildlife habitat preservation, agriculture, sustainability, water management, recycling, and much more!
Explore the Outdoor Exhibits in Mary's Garden
Mary's Garden is one of our most popular areas at the Children's Museum of Sonoma County. Little explorers love discovering all of the engaging activities available in this outdoor space!
At the Children's Museum, we have our very own miniature Russian River! The water comes from a naturally filtered spring that cascades down a series of small rocky waterfalls and ends in a shallow basin at the bottom. The river has life-like salmon that we encourage children to catch and release as the fish swim down the river!
Our Russian River Waterway exhibit is a great resource that educates visitors on the importance of this beautiful habitat and the various wildlife that call it home.
Learn About the Butterfly Life Cycle
All throughout Mary's Garden children can find interactive exhibits that teach them all about the lifecycle of a butterfly. Children love all of our various features that allows them to experience different life stages of our local Sonoma County butterflies. Mary the butterfly watches over the garden from above, and invites visitors to flap her mechanical wings to see how they work, first hand!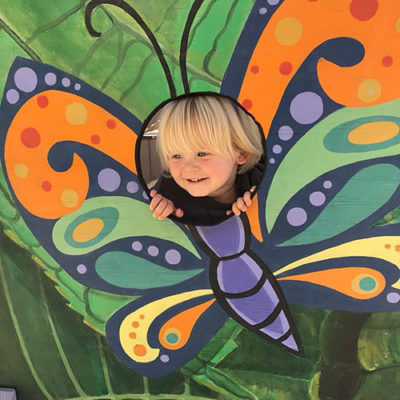 Meet Our Storybook Caterpillar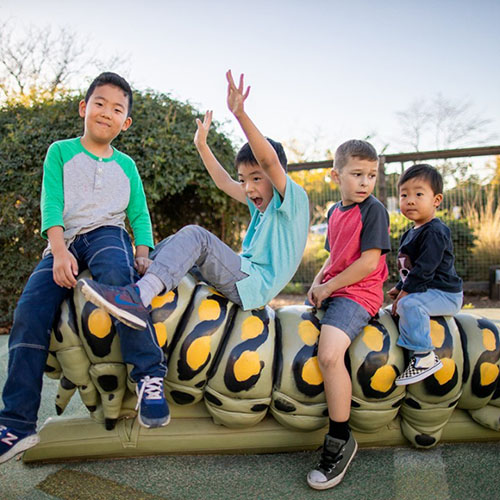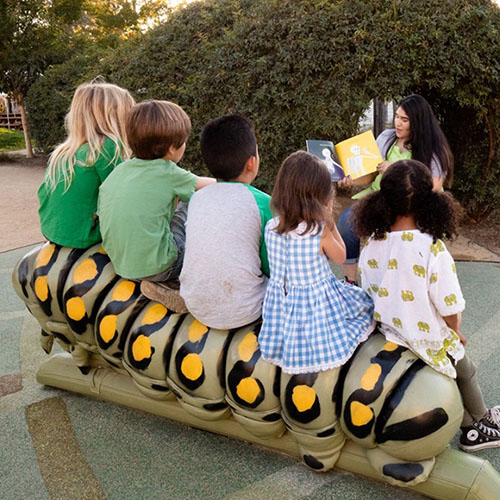 Our weekly Storytime program is one of our most popular educational activities at the Children's Museum. We host this event in Mary's Garden and many of our little listeners get front row seats on our beloved Storybook Caterpillar!
Our Storybook Caterpillar sculpture is cushioned with soft stuffing, making it the perfect perch for children to listen to our playologists read an exciting tale aloud. Our storytime friend is three feet tall, and beautifully painted to illustrate the detail and beauty of a caterpillar's markings and colors.
Thanks to the continued support of our members and community, our Storybook Caterpillar recently got some much-needed restoration after many years of love! Local artist Emily Marshall, re-stuffed, re-sewed, and repainted our Storybook Caterpillar just in time for him to make some new friends!
Mari and Posa Storytime Butterfly Benches
We recently welcomed two new Storytime friends to the Children's Museum Garden! Mari and her sister Posa are handcrafted butterfly benches that now live next to our Storytime Caterpillar. These new benches are made by local artist Rob Senn out of redwood, cedarwood, and featured stained glass polka dot windows.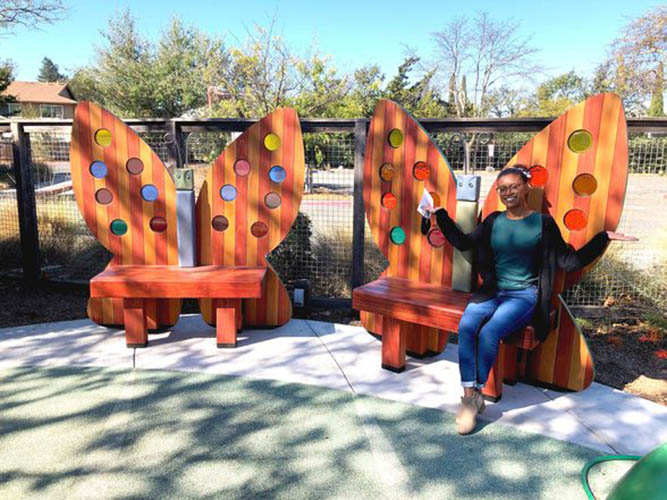 About Storytime at the Children's Museum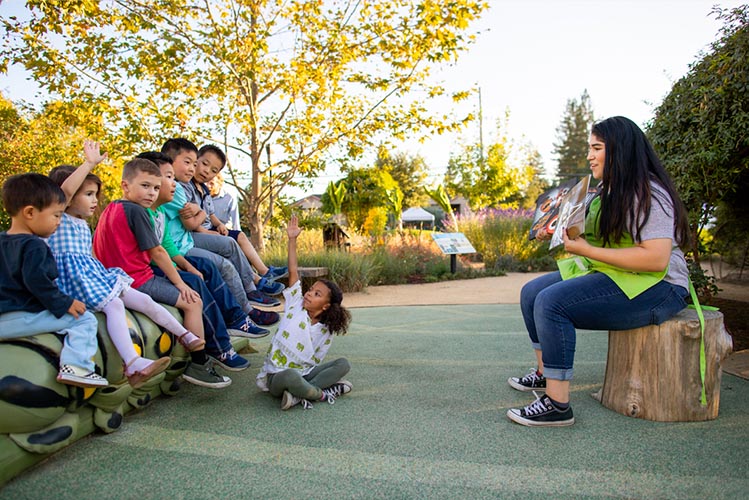 For little learners, the first fives years of their lives are the most critical for developing language and speech skills. In these early years of development, your children's brains are busy absorbing all sorts of speaking ques. By observing speech and language, many young learners develop a strong foundation for their literacy learning process.
At the Children's Museum of Sonoma County, our literacy programs like Storytime with our playologist, encourage language development in children at various stages of learning. Our Storytime picture books introduce little ones to new words to expand their vocabulary, and provide beneficial memory tools like picture association and engaging rhymes.
You can also continue to nurture your child's love for learning at home! You can enjoy all of our virtual Storytime videos at home with your little ones, by subscribing to the Children's Museum YouTube channel! By encouraging literacy development through reading aloud to young children, you can establish a positive connection to learning that will help them succeed in many other aspects of life!
The Children's Museum of Sonoma County is Ready to Inspire You!
The Children's Museum of Sonoma County is dedicated to providing a safe, accessible, and welcoming space for families and children in our community. Our members are essential in ensuring the future of our museum, and allow us to better serve our visitors. The continued support means so much to the entire CMOSC team. We want to ensure all our visitors are invited back as soon as possible, and that all of our members can take advantage of their benefits. Come visit us when you're ready to start your child's lifelong love of learning.