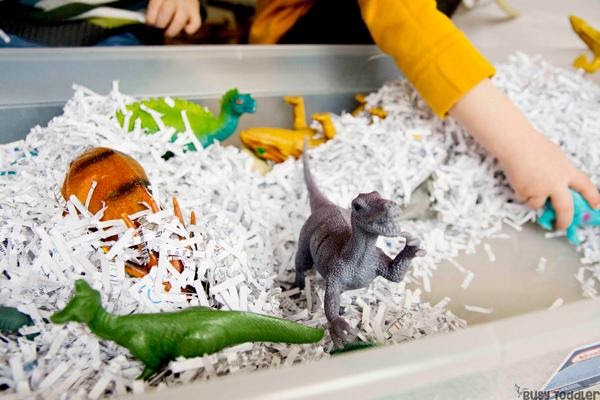 An At-Home Sensory Activity For Toddlers
Who says your old papers and recycling are destined to be just trash? Gather all your shredded papers, and before putting them out to the curb, let your littles enjoy a sensory activity!
Materials:
Tupperware tub, storage bin, old file box – some kind of big receptacle
Shredded paper
Toys with which to play. Ours are dinosaurs, but they can be anything. Some good examples are:

Salad tongs
Legos
Small toys (like our dinosaurs)
Kids' tweezers/grabbers
Twisted up pipe cleaners
Old plastic Easter eggs
Clean yogurt containers
Measuring cups and spoons
Directions:
Place shredded paper and toys in the bin, and let your child have fun!
Since shredded paper can get EVERYWHERE, we recommend putting down a sheet or blanket first. When your child is finished playing, clean-up is significantly easier! No vacuum needed!