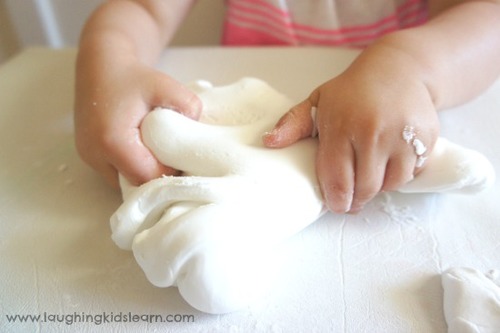 Make this fun coconut cloud dough from the Imagination Tree for engaging, sensory play with your little ones. Please note that this is not edible playdough; it just smells really good!
Ingredients
1 cup cornflour (cornstarch)
5 tbsps coconut hair conditioner
Method
Simply tip 1 cup of cornflour into a bowl then add 5 tablespoons of hair conditioner.
Make sure to mix each spoonful in one at a time until the final one, and then put your hands in to knead it into a ball. It shouldn't be sticky but if it is for some reason, then take it out and continue to roll and knead it on a surface with cornflour sprinkled onto it, until it is right.
If it is too dry then dip your fingertips into some conditioner and knead again.
When it is ready it will be wonderfully smooth, soft and squishy, like a ball of the softest play dough ever!