Make Your Own Snow Days at Home With These 5 STEAM Activities for Kids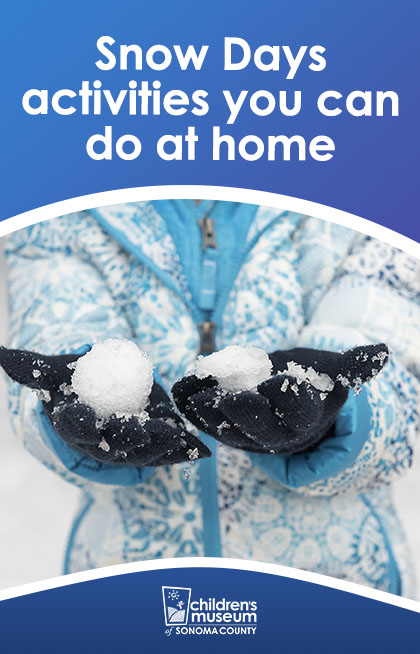 Our annual Snow Days event is one of our most popular celebrations at the Children's Museum of Sonoma County. All of the admission proceeds from this yearly benefit allow us to provide children and families in our community affordable access to the Children's Museum. Snowfall is uncommon in Sonoma County, so during the Snow Days event we bring in 50 tons of snow and set-up a variety of snow-themed activities and attractions!
The children and their families dress in warm snow clothing and enjoy a holiday weekend full of fun winter games and educational opportunities. One of our most popular attractions for children and their families is our giant sledding hill constructed out of real snow! We also use a snow machine to simulate snow falling from the sky, and set-up an inflatable snow globe that kids can crawl inside to have their photo taken.
Our Snow Days attractions also include exciting and entertaining snow-themed STEAM activities! STEAM stands for Science, Technology, Engineering, Art, and Math. These activities incorporate engaging educational projects that are fun for the entire family and encourage a lifelong love of learning in children!
Why are STEAM Activities Important for Early Childhood Development?
STEAM is an educational technique that encourages developing minds to establish lifelong skills while learning about the world around them through play! STEAM projects are specifically designed to help children of all ages to utilize logical thinking and develop motor skills along with other cognitive abilities. They provide positive experiences that inspire little ones to try new things, experiment with news tools, be creative, and ask questions!
5 Snow Days STEAM Activities You Can Do at Home This Year
Since our annual Snow Days event at the Children's Museum of Sonoma County was unfortunately canceled this year, our team wants to help you celebrate at home! Read on to learn how you can use common household items, (and a little pre-planning) to celebrate your own Snow Days at home! Note: For an authentic Snow Days experience at-home, some items need to be purchased in advance.
Tell CMOSC How Your Family Celebrated Snows Days at Home!
All of us at the Children's Museum missed celebrating Snow Days with you, but we look forward to inviting you back as soon as possible! In the meantime, we want to hear how your family kept up the beloved Sonoma County Snow Days tradition!
How did you celebrate your own Snow Day at home this year? What was your favorite snow-themed STEAM activity? Was it a science, technology, engineering, art, or math project?
Or tell us which Snow Days activity you are most excited to do again at CMOSC!
Follow and tag CMOSC on Social Media: