Get Up and Groove With a Dance Party!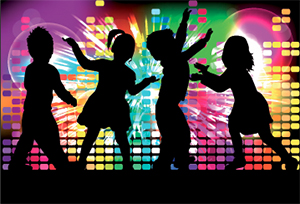 Get kids movin' and shakin' and groovin', as well as laughing and enjoying themselves. This activity works great
to encourage movement, gross motor skills, and interpersonal collaboration and communication.
Materials:
 Sound system to play music
 Colored disco ball (gotta have one of these! But it's OK if you don't)
 Kid-friendly playlists
o Examples of good YouTube Playlists to stream:
o Kids Party Music (by Mmmm Ssss)
o Awesome Kids Dance Party Playlist Mix (by boxcarbabe)
o Top 100 Kids Disco Songs! (by Skulltooth)
 (Optional) Craft items to make decorations/costumes
Directions
Plugin the disco ball, turn it on, and turn off the lights (if in the classroom).
Start the music
DANCE.
It is pretty important that YOU, as the adult leader, DANCE as well. The children will follow your example.
Optional: Feel free to move this outside as well, if you need more room or a change of location.
Optional: Before the dance party begins, give the children some craft supplies, and let them make decorations, streamers to wave, hats/crowns, or costumes to wear during the party.