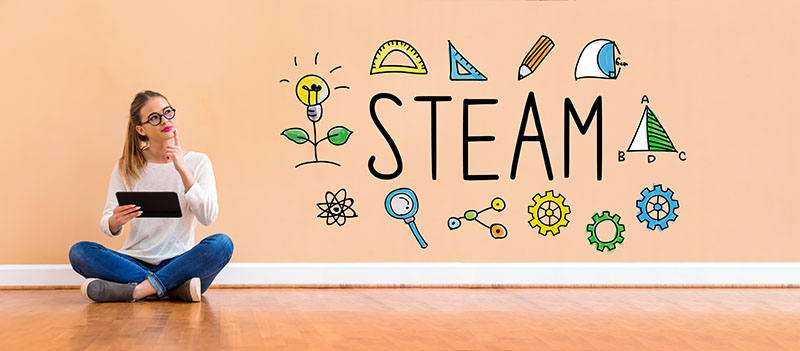 Make Learning About Science, Technology, Engineering, Art, and Math Fun for Your Kids at Home
When it feels like regular routines have been put on hold, anyone with little ones in their home knows that kids do not come with a pause button. Our team at the Children's Museum of Sonoma County wants to help you develop new daily activities that create a balance of education and play – all it takes is a little bit of STEAM.
What is STEAM Education?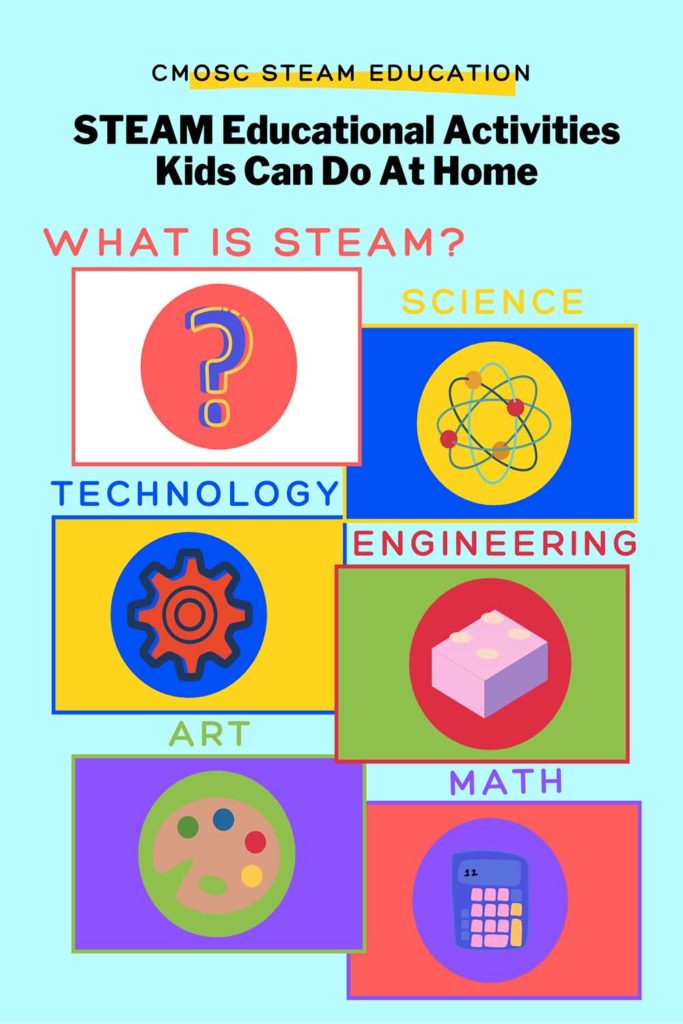 STEAM – similar to STEM – is an acronym for Science, Technology, Engineering, Art, and Math. It is a fun and engaging educational pathway that encompasses five key fields of learning.
STEAM-based learning encourages young minds to explore the world around them, try new things, be creative, and ask questions. These activities and experiments help children of all ages to develop logical thinking skills to solve problems.
In this article, we will examine the benefits of incorporating STEAM fields of learning in your child's at-home play. This will also provide some suggested STEAM educational activities for kids that can be done with common household items!
1. STEAM Educational Activities Makes Science Exciting for Kids
From a young age, we are all natural experimenters and scientists, trying to learn as much as we can about this big world around us. Most children begin learning by watching their parents and repeating things they do – monkey see, monkey do!
Through fun STEAM science projects, kids will be able to use their natural observation skills to find patterns and predict outcomes based on hands-on experimentation. This will help them learn how to build theories, focus, and be inquisitive about new things.
Grow Your Own Crystals at Home!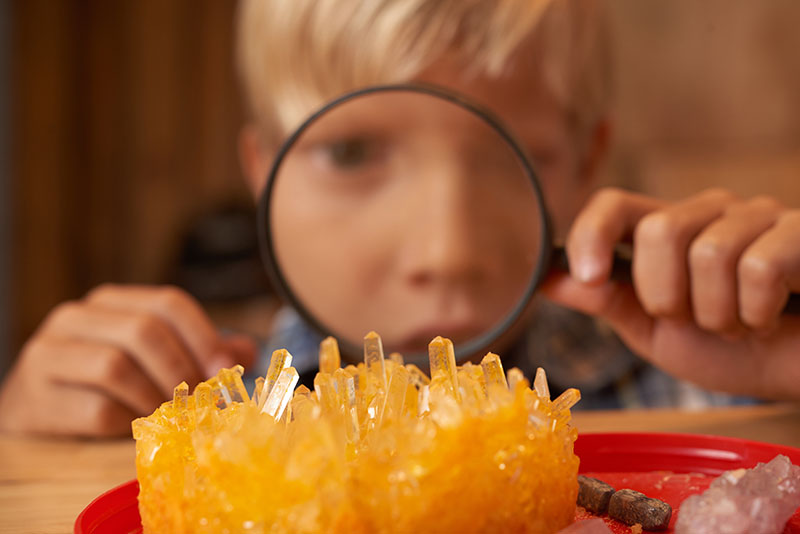 Check out our step-by-step guide on how you and your kids can grow your own Borax Crystals! Your child will use exciting, hands-on chemistry to grow their very own crystals overnight.
2. Kids Learn How Things Work with STEAM Technology
When we talk about STEAM educational activities, we don't mean high-tech. We bring it back to the basics, like when humans first created the wheel. The "technology" in STEAM is designed to help children learn how specific tools can help them achieve different tasks — like learning to use scissors to cut paper, a fork to eat food, or wheels to go faster.
As children interact with simpler tools, they start to learn how to accomplish tasks through cause and effect, supporting their cognitive development.
Create a Toddler Tool Kit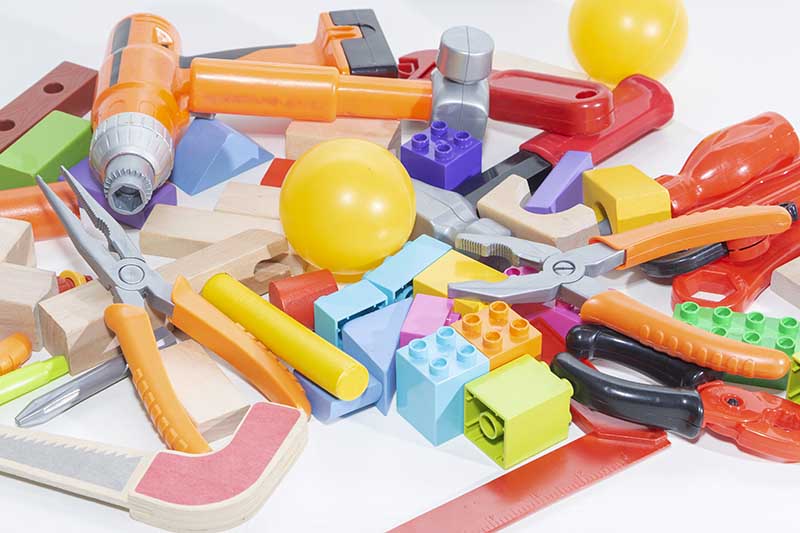 Take an old lunch box, or any other easy to carry container, and add some child-friendly tools they can use for different reasons throughout the day. Some of our favorites are: a magnifying glass, safety scissors, scotch tape, and string! As they age they can add or replace new age-appropriate tools.
3. Engaging STEAM Projects Teach Your Kids About Engineering
When babies play with building blocks, they are learning how to design and build something – the basic fundamentals of engineering for kids. STEAM engineering projects help children of all ages learn about construction, balance, functionality, and design. Using different materials like legos, blocks, or toy race tracks, kids can build a better understanding of how things fit together best.
Join CMOSC for Virtual Wacky Wednesday: Engineer It On Facebook
Every week we host a virtual Wacky Wednesday event on our Facebook fan page. During some of these events, our theme is "Engineer It!" Little ones can watch, play, and learn different aspects of engineering for kids by tuning in to these events!
4. Encourage Your Child's Creativity at Home With a STEAM Art Project
Supporting creative minds can benefit every aspect of a child's education. Scientists, engineers, and mathematicians all utilize creative and innovative solutions to answer and solve hard questions. Art allows children to utilize all of their senses while learning through productive self-expression.
Create Your Own Sock Puppet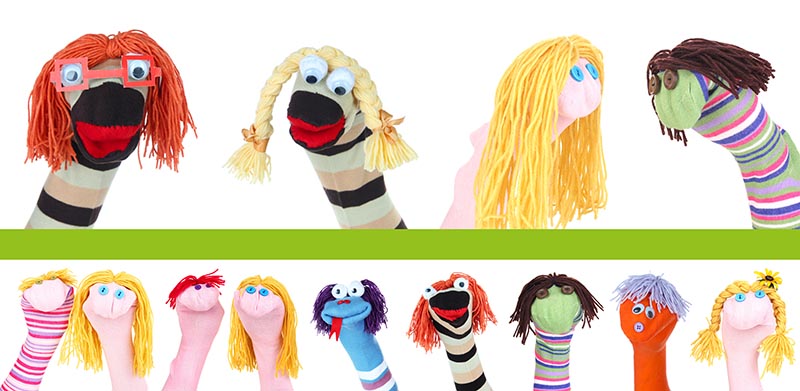 Follow our step-by-step guide and video on how to make a sock puppet character and encourage your little one to put on a show or practice reading allowed with their new friend!
5. Make Math Fun for Kids With a STEAM Educational Activity
Math is actually a tool children use every day starting from a very young age. When they indicate they want more to eat or drink, they are naturally using basic math to come to these conclusions. Encouraging them to associate the feeling with the words "more" and "less" is a natural way to introduce them to the concept of math.
STEAM math activities help children utilize math skills, and use mathematical language naturally. These activities provide children with hands-on math experience and interaction which can develop a better understanding of relationships between numbers, patterns, and shapes.
Playdough "Math Smash"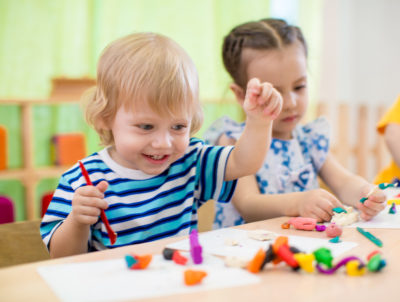 Our Instagram friend Perfect Preschool Plans suggests setting up playdough balls for your little ones to count as they smash them flat! This fun activity is a great way to practice counting while also incorporating sensory fun.
You can learn how to make your own playdough at home with our easy to follow step-by-step guide!
Learn More about STEAM with the Children's Museum of Sonoma County
Are you feeling low on STEAM? At CMOSC we have many ideas for STEAM educational activities! We strive to inspire creativity and encourage hands-on exploration, while also providing our community with access to interactive resources that stimulate children's minds. Stay connected with CMOSC on Facebook, Instagram, or Youtube for more fun educational activities for kids that you can do together, right in your own home.
We look forward to seeing you all again soon at the Children's Museum of Sonoma County and encourage you to please consider helping us get through this challenging time with a thoughtful gift.