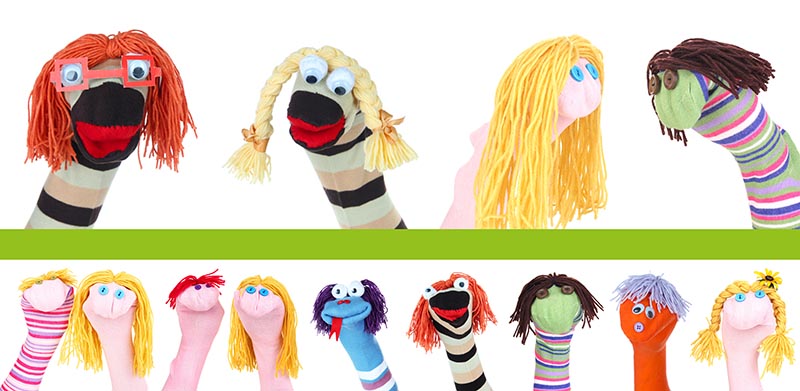 Making Sock Puppets is Fun Art Activity Kids Can Do at Home: Ages 5+
Why?
Encourage creative thinking and use simple craft supplies and a sock to create a puppet at home. Once finished, spend time making up their character/voice/personality, and possibly put on a puppet show, or have your puppet read one of your storybooks out loud!
Vocabulary:
Imagine
Create
Character
Voice
Personality
Sock Puppet Materials:
Socks
Hot glue gun
Scissors
Craft Supplies (ideas below):

Felt
Wire
Needle/thread
Yarn
Rickrack
Pipe cleaners
Buttons
Craft poms
Ribbon
Googly eyes
Plastic pearls
Sock Puppet Directions:
Put the sock on your hand to get a feel for where the mouth will be.
The mouth will be created by the crease between your fingers and thumb.
Once you have a feel for how you want to hold the puppet, mark where you want the eyes to go with the marker.
Use googly eyes or pompoms or buttons for the eyes to give your sock puppet a face
Use hot-glue to attach different craft supplies to the puppet to add hair, accessories, or even hands! Use your imagination to create a unique puppet! Be careful however! Hot-glue can be HOT! So make sure an adult is present when making this particular craft.
Check out these other ART ADVENTURES that are sure to inspire and ignite a love for art!