How To Make Your Own Sandfoam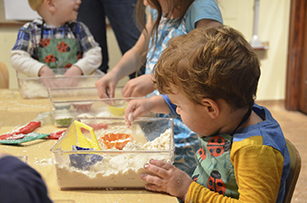 Sandfoam is an invitation to get messy and have fun with the sensory experience of this squishy and
sandy material! Great for young toddlers who need to get their hands dirty with a safe and easy
to clean material. Don't have sand on hand? You could use dirt, salt, sugar, or coffee grinds.
Materials:
o Shaving cream
o Sand (or other grainy material)
o A plastic tub or smooth surface
o Food coloring or liquid watercolor
Directions
Squirt out a hearty pile of shaving cream into a plastic tub, or onto any smooth surface.
Dig in! Let your child mix the sand and foam together.
Add food coloring or liquid watercolor to add color.
Try adding toys to encourage play, sand toys could be fun!