In this blog post, we'll be sharing a number of creative ideas for celebrating the Lunar New Year with kids. Whether you've celebrated before, or you're new to the holiday, we hope these suggestions will inspire you to bring the joy and traditions of the Lunar New Year into your home.
The Lunar New Year is one of the most important holidays in many East Asian countries and is also widely celebrated by many people around the world. The 15-day celebration is based on the lunar calendar, which means the Lunar New Year falls on a different date every year determined by the phase of the moon. Generally, it falls sometime between January 21 and February 20.
Celebrate the Lunar New Year with These Family-Friendly Activities
Lunar New Year celebrations are a time to usher in positive affirmations for the year ahead, and honor family and cultural traditions. From special meals and crafts to cultural education and festive parties, there are plenty of ways to make the holiday a memorable and enriching experience for kids.
1. Practice Chinese Paper Cutting (Jianzhi)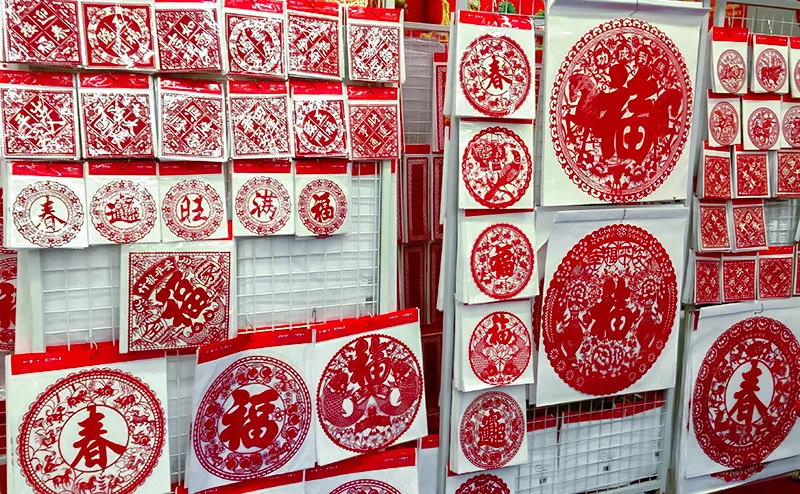 One of the many traditions that make Lunar New Year celebrations so beautiful is the dazzling decorations! Every color, character, and symbol has its own unique meaning, usually focusing on happiness, luck, and prosperity for the new year.
The Chinese art of paper cutting, known as Jianzhi, is an incredibly ornate and detailed art form that takes years of practice to master. During the Lunar New Year, people hang red Jianzhi in their windows and around their homes. Red is considered to be a lucky color and is believed to ward off bad luck and bring happiness and good fortune. The red paper cuttings typically feature auspicious symbols, Chinese characters, flowers, fruits, zodiac animals, and even people.
Making your own Jianzhi-inspired decorations to hang around your home is a fun way to get creative and join in the Lunar New Year festivities. All you need is some red paper and scissors to create unique and beautiful decorations. Think of it like making a paper snowflake! Kids can cut out all kinds of shapes and designs, and no two paper cutouts will be exactly the same.
2. Cook a Special Lunar New Year Meal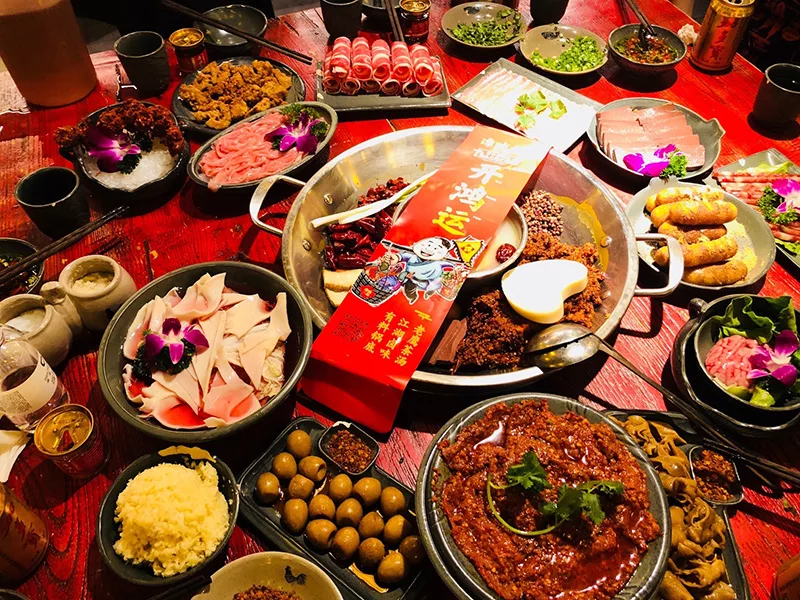 Food is an incredibly important part of many Lunar New Year celebrations. A traditional "lucky dinner" is usually enjoyed with family and close friends on New Year's Eve. Every dish has its own symbolic meaning and includes items such as fish, pork, dumplings, chicken, noodles, and vegetables.
Common dishes served during a Lunar New Year Lucky Dinner include:
Fish: Usually served whole, symbolizing a prosperous year ahead.
Pork: To bring wealth and abundance.
Dumplings: To bring good luck and prosperity.
Chicken: Symbolizing fertility and long life.
Noodles: Represent longevity.
Vegetables: To represent health and vitality.
Bread Buns: Buns and other breads symbolize prosperity.
Taro Cakes: Desserts represent happiness and good fortune for the new year.
One special Lunar New Year dish that many people prepare for the holiday is Chinese steamed buns, called Mantou. This delicious and soft bread bun only requires a few simple ingredients and is perfect for families to make with young children. Read our previous blog post to find the list of ingredients and directions to make this kid-friendly Lunar New Year Recipe!
3. Give Out Lucky Red Envelopes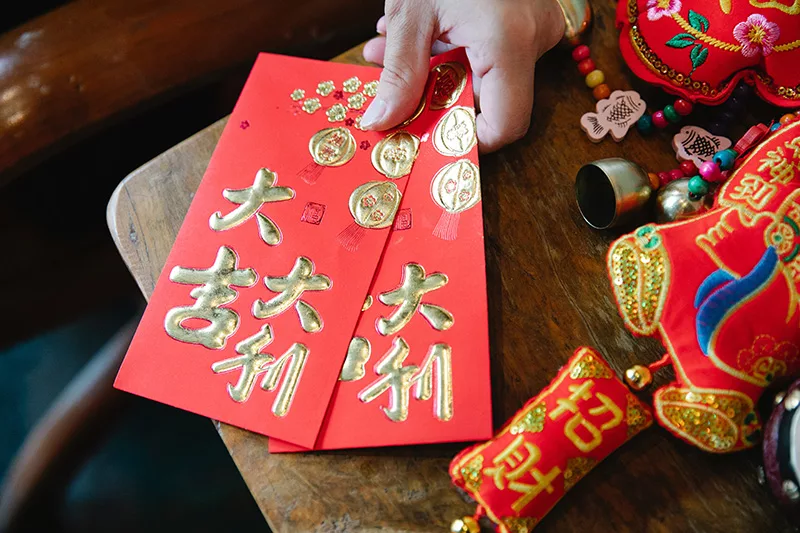 Lucky red envelopes are an exciting part of Lunar New Year celebrations throughout Asia, especially for kids! During the holiday, families give out these red envelopes as gifts to children, and they are usually filled with money, candies, or stickers as a gesture of good luck, prosperity, and happiness.
The red color of the envelope is important as it symbolizes luck and happiness. The amount of money in the envelope is usually an even number, as odd numbers are believed to bring bad luck. Red envelopes are traditionally given out during lucky dinner, and the money is not meant to be saved, but rather spent within the year on something that makes the child happy.
4. Find Your Chinese Zodiac Sign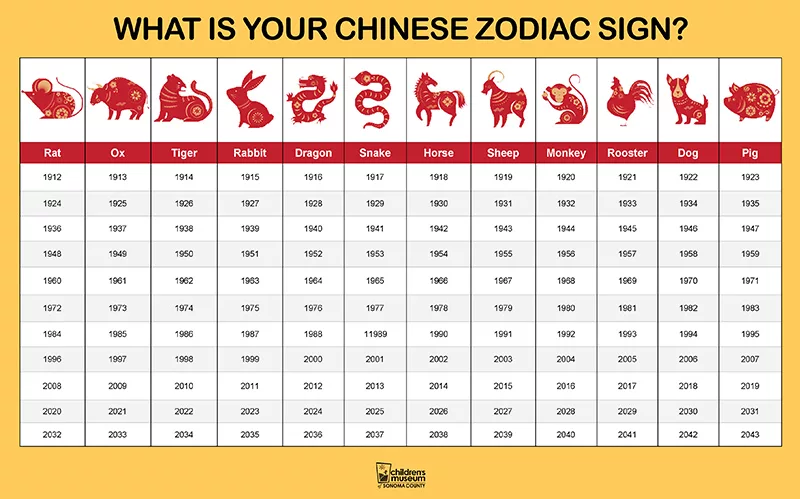 Similar to Western astrological signs, the Chinese Zodiac attributes specific personality traits to when a person was born. However, while Western Zodiac signs are grouped on a month-by-month cycle, the Chinese Zodiac is grouped on a yearly cycle, so people born in the same year share the same sign.
There are 12 Chinese Zodiac signs in total, and each one is a different animal. The 12 animals of the Chinese Zodiac include:
The Rat
The Ox
The Tiger
The Rabbit
The Dragon
The Snake
The Horse
The Goat
The Monkey
The Rooster
The Dog
The Pig
Every Lunar New Year marks the beginning of a new year of an animal. For instance, 2022 was the Year of the Tiger. In 2023, the Lunar New Year falls on January 22nd, marking the first day of the Year of the Rabbit. After a 12-year cycle has completed, the Chinese Zodiac starts over again with the first animal, the Rat. The most recent Year of the Rat was in 2020!
5. Learn About the Chinese Dragon Dance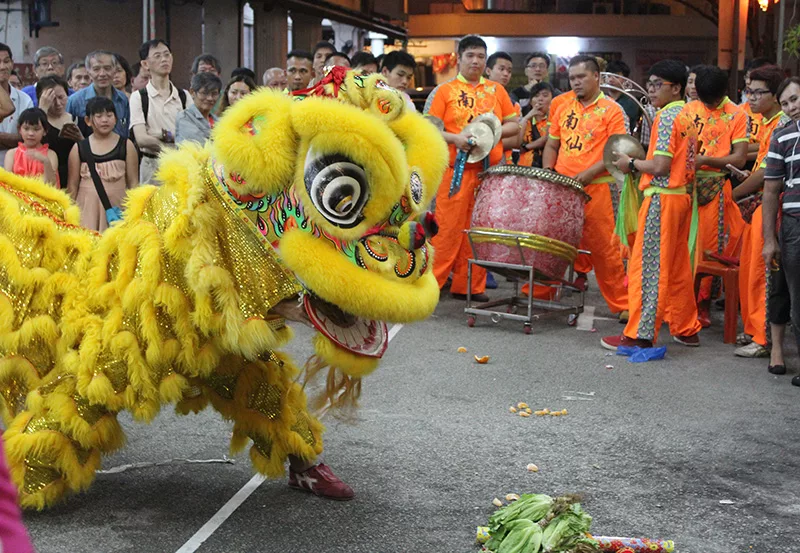 The Chinese dragon is believed to bring good luck and symbolize wisdom, wealth, and power. Traditional Chinese Dragon Dances are an important part of Lunar New Year celebrations and are usually the highlight of New Year's parades.
During the celebration, multiple dancers will carry the colorful and elaborate dragon costume and make it weave and dance through the festival. The dance is believed to scare away any evil spirits. During the performance, drummers provide a rhythmic beat to provide a sense of energy and excitement for the dragon dancers and the audience.
Traditional Chinese dragon costumes come in a variety of colors, all of which have unique meanings:
Red Dragons: Luck and good fortune
Green or Blue Dragons: Peace, healing, health, and growth
Yellow Dragons: Wisdom, power, and good fortune
Gold or Silver Dragon: Strength, prosperity, and power
The Redwood Empire Chinese Association (RECA) is a non-profit organization located right here in Santa Rosa. Their mission is to provide educational and charitable services relating to the preservation and sharing of Chinese culture, language, and heritage with the northern California community.
If your family is interested in learning more about traditional Chinese dancing and drumming, RECA offers a number of ongoing programs including a Cultural Dance Program. Everyone is welcome to learn at the RECA center, and some cultural dance and music classes they offer include:
Dragon Dance
Lion Dance
Lion Drum Lessons
Youth Drum Corps
Fan Dance from the Ching Dynasty
Flower Drum Dance
And many more!