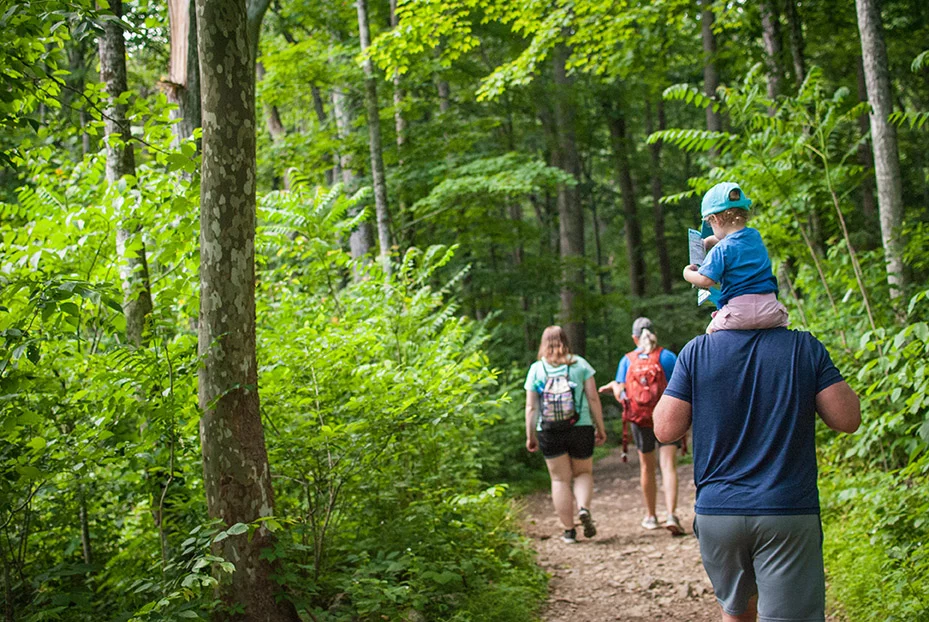 Enjoy Some Family-Friendly Fun With These Outdoor Activities in Sonoma County
If you're looking for some fun outdoor activities in Sonoma County to enjoy the day with your family, this guide is for you! Whether you're celebrating a special occasion or just want to enjoy some fun in the sun, these family-friendly activities in Sonoma County are sure to keep the whole family entertained!
1. Visit Regional Parks for Free With Your Sonoma County Library Card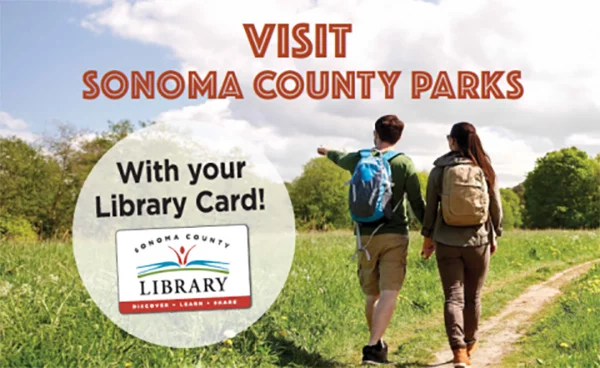 Did you know your library card can get you FREE day passes to Regional Parks all over Sonoma County? The Regional Parks Discovery Packs program was developed by the Sonoma County Library in partnership with Sonoma County Regional Parks to provide increased opportunities for residents and families to visit and explore our parks!
Every Regional Parks Discovery Pack includes:
A FREE Day Use Parking Pass Good at All Regional Parks
Park Maps
Trail Itineraries
Wildlife Guides
Hiking Tips
And More!
All the information in the Discovery Packs is available in both English and Spanish and can be checked out at any local library for up to three weeks!
That's not all your library card can do though! If you have a Sonoma County Library card, check out their Discover & Go community program to get free and low-cost tickets to fun local venues including museums, zoos, theatres, and more!
2. Spring Lake Regional Park, Santa Rosa CA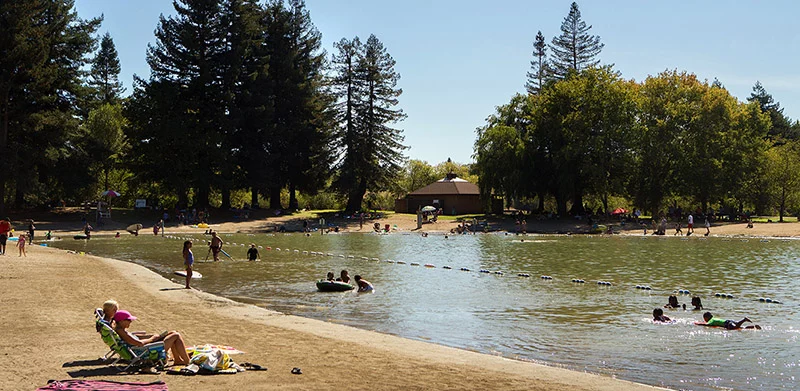 Spring Lake Regional Park is one of Sonoma County's most popular destinations for outdoor activities! This 350-acre park in Santa Rosa has just about everything you would ever want; hills, woodlands, a swimming lagoon, and of course the lake. It is a great place to plan a day outing, or you can reserve one of their campsites for your next family camping trip!
The lake itself is a 72-acre reservoir where families can fish, or boat year-round. The swimming lagoon is open seasonally from Memorial Day weekend to Labor Day weekend and is free for visitors of all ages to enjoy. Children ages six and over can play on the inflatable floating playground which features balancing beams, slides, bouncy platforms, and more.
At the Spring Lake Environmental Discovery Center families can learn about Sonoma County's ecosystems through interactive activities and displays including a tide pool with live sea creatures!
3. Armstrong Redwoods State Natural Reserve, Guerneville CA
Armstrong Woods is an 805-acre nature preserve that is home to some of the world's most magnificent coastal redwood trees. You can stop by the visitors center to learn about the history of Armstrong Redwoods State Natural Reserve and then explore the park by car, or hike amongst the towering redwood giants on foot.
For families with little ones, the Pioneer Nature Trail is a great 1.5-mile round trip walk that is mostly flat, ADA accessible, and includes a picnic area.
When you visit the Armstrong Redwood grove you will get to see:
The Tallest Redwood Tree: The Parson Jones Tree measures more than 310 feet tall and is located only 0.1-miles from the entrance of the park.
The Oldest Redwood Tree: The Colonel Armstrong Tree is estimated to be over 1,400 years old and is located 0.5-miles from the park entrance.
The Mysterious Icicle Redwood Tree: The Icicle Tree is located about ⅓ mile from the Colonel Armstrong Tree, and is named for the large and unusual burl formations that have grown on its bark. The cause of these huge burl growths remains unknown.
The Redwood Theater: This amazing 2,000-seat amphitheater is a hidden gem in this dense redwood forest, but if you follow the signs near the Armstrong Tree, you should be able to find it with ease.
This breathtaking redwood forest is open to visitors to hike and explore every day from 8:00 AM to sunset.
4. Mary's Garden at the Children's Museum of Sonoma County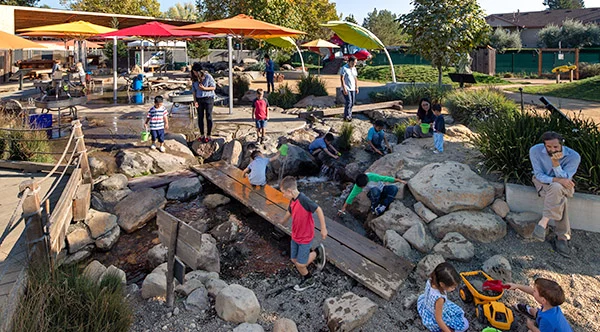 Every time you visit the Children's Museum of Sonoma County, you are bound to discover something new. Every interactive exhibit in the museum is designed to spark excitement, curiosity, wonder, and a lifelong love of learning.
The Children's Museum campus includes 36,000sq ft of outdoor play space known as Mary's Garden. This area is entirely devoted to inspiring a connection to nature through fun and engaging exhibits. Mary's Garden allows children to learn about our local ecosystems, environmental sustainability, water conservation, and so much more, all through play!
Some of the most popular outdoor activities and exhibits in Mary's Garden include:
Ornithopter: a real helicopter that children can climb into donated by REACH Air Medical Services.
Russian River Waterway: a miniature Russian River that children can catch and release life-like salmon fish from.
Butterfly Lifecycle: various interactive displays placed throughout Mary's Garden allows children to experience the lifecycle of a butterfly.
Edible Garden: a thriving edible garden that introduces children to sustainable gardening practices through guided programs.
The Children's Museum of Sonoma County is open to members and visitors Wednesday – Monday from 9:00 am – 4:00 pm. Their team host daily programs designed for visitors of all ages and learning levels to enjoy. Programs such as Garden Party, Ask a Farmer, and Storytime all takes place outside in Mary's Garden.
5. Howarth Park, Santa Rosa CA

Howarth Park is the perfect destination in Santa Rosa for a family day trip. This 138-acre outdoor Sonoma County community space is packed full of fun outdoor activities both on land, and on the water.
Some of Howarth Park's top family-friendly activities include:
Boating on the lake
Fishing from the dock
Miles of hiking and biking trails
Designated picnic areas
Softball field
Tennis court
Multiple playground structures
Miniature train rides
Pony rides
Petting zoo
Carousel rides
And more!
The park has a snack bar on site where you can purchase food and drinks, an accessible parking lot with free parking year-round, and a dock for visitors to launch their own boats. You can bring your family to Howarth Park any day of the week from Sunrise – Sunset!
6. TrainTown, Sonoma CA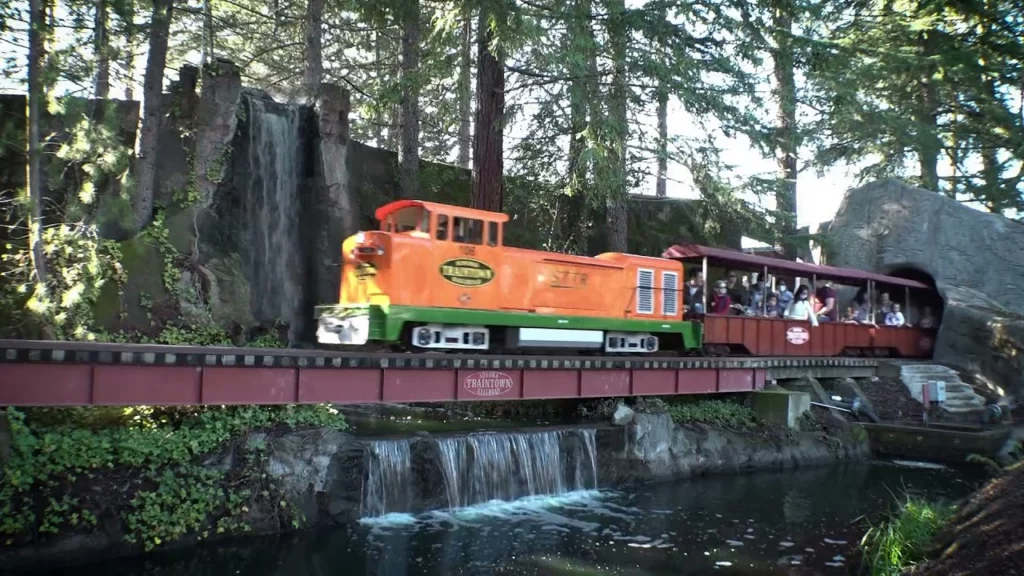 Located in the heart of Sonoma, TrainTown is a railroad-themed amusement park that offers attractions the whole family can enjoy. Climb aboard their quarter-scale railroad and enjoy a four-mile train ride through tunnels and over bridges before stopping at their very own miniature town!
Other TrainTown Rides include:​
Iron Horse Carousel
TrainTown Airlines
High Iron Ferris Wheel
Mine Train Coaster
Air Scooter
Parking and general admission are free for the whole family, and individual tickets for the other rides are available for purchase in the park. TrainTown is open year-round from 10:00 am – 4:00 pm. In June, July, and August, they are open seven days a week, and from September through May they are open on Saturdays and Sundays.
7. Francis Ford Coppola Winery, Geyserville CA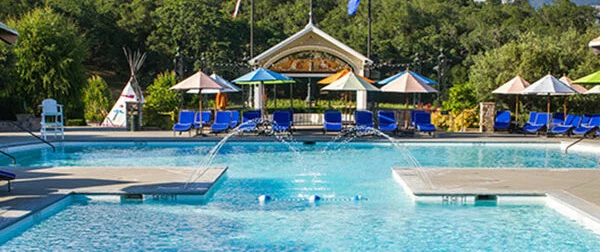 If you have ever wondered if there were any kid-friendly wineries in Sonoma County, we have wonderful news for you! Francis Ford Coppola Winery in Geyserville is one of Wine Country's top family-friendly places to visit!
The Francis Ford Coppola estate was created as a destination for wine lovers, and families alike. With two swimming pools, private cabin rentals, and poolside food and wine service, this kid-friendly winery provides families with the ultimate wine country experience.
The winery also offers a bocce ball court, board games, a museum, and even a children's library. The Francis Ford Coppola Pool opens in the late spring/early summer season and reservations are required.
8. Safari West, Santa Rosa CA

If your family is the type to jump at any opportunity for adventure, then Safari West might be the perfect place for you! At Safari West, visitors can experience the sights and sounds of Santa Rosa's very own Serengeti on guided tours around this 400-acre exotic wildlife preserve.
This expansive habitat is home to about 900 animals, so you can expect to come face to face with wildebeest, rhinos, zebras, giraffes, ring-tailed lemurs, and more! Safari West offers scheduled tours every day of the week, or you can extend your adventure with an overnight stay on the preserve!
Find More Family-Friendly Activities at the Children's Museum of Sonoma County
Adventure awaits! There is always fun to be had at the Children's Museum of Sonoma County, and we want to help you and your fam discover new and amazing things to do! You can start by exploring our PLAYology Playbook blog for fun and educational at-home activities, family-friendly day-trip ideas, and so much more!
We also invite you to join us at the museum and enjoy a day of wonder and play every Wednesday – Monday from 9:00 am to 4:00 pm! Check our event calendar to see all the special programs and events happening at the Children's Museum soon!
Stay up to date on museum updates, events, programs, and news by signing up for our newsletter!
Sign up for E-News!
Sign up for E-News Form