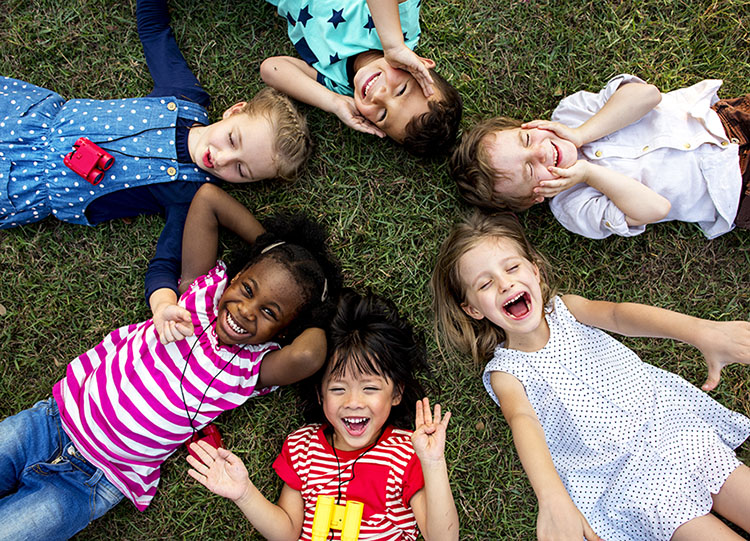 How Playtime Promotes Strong Mental Health During Early Childhood Development
Play is serious work, especially when it comes to children's physical, emotional, and mental health during early childhood development. 
Countless studies have proven that unstructured play provides children opportunities to naturally build essential life skills. Qualities such as problem-solving, teamwork, and emotional regulation are all naturally refined while our little learners play.
Likewise, this research demonstrates that playtime is an amazing tool for stress relief and can greatly benefit children's mental health.
Why Is Play Important to Children's Mental Health?
Building the foundation for strong mental health begins early in life. Among many things, maintaining your mental and emotional wellbeing requires positive coping skills, the ability to develop fulfilling relationships, and a strong sense of self-confidence. These are all skills children organically practice during playtime.
Positive Feelings
First and foremost, playtime is meant to be exciting and fun! Providing kids opportunities to experience unstructured play allows them to relax and express themselves without any expectations. It removes the notion of doing something incorrectly or the possible stressors that come along with winning or losing.
The only goal is to have fun, which is undoubtedly one of the greatest ways to promote positive feelings and support children's mental health.
Healthy Social Skills
For toddlers and preschool-age children, learning how to connect and positively engage with others is an essential part of healthy development. From learning to share to practicing language skills, playtime provides toddlers the opportunity to learn how to interact with each other.
We spoke with Cadence, a Children's Museum member, who talked about the benefits of being able to safely socialize her two toddlers now that the museum is open again:
"I cannot tell you how much we love and value CMOSC – we visit nearly every weekend and it's been amazing for our pandemic toddlers to have the opportunity to play alongside other kids and explore all the different areas of the museum. I swear they find something new each time we visit! My husband and I are beyond grateful to have such an engaging and safe place for our kids to spend time, here in Sonoma County."

– Cadence, Children's Museum Member
Playing is an organic way children can observe one another and practice appropriate interactions. They are able to hone their communication and problem-solving skills in a safe and positive environment. This is also a great opportunity for children to begin understanding boundaries and how to respect them, as well as how to set their own.
Emotional Wellness
Teamwork, communication, and compromise are all essential life skills children develop through play. As simple as sharing and compromising may seem to adults, these situations are exercises in children's emotional regulation.
Playing provides young children a safe and healthy outlet to identify new emotions in themselves and experience how their peers express new and complex emotions as well. This in turn progresses their own emotional self-awareness as well as their capacity to empathize with their peers.
Community Building
Having a sense of community is vital to children's long-term mental and emotional wellbeing, as it provides a strong feeling of safety and security. Having a close support system is essential for all of us, and playtime provides children the opportunity to learn and practice cultivating these friendships.
Kevin, a father of a three-year-old is one of our Museum Access members who recently spoke with us about this very topic, saying:
"My family moved to Sonoma County in September 2017 with a newborn and no social networks. The yearly natural disasters and sprawling distances between amenities made it difficult to find consistency with other children and families. This changed when we discovered The Children's Museum of Sonoma County. From our first visit we've been hooked, watching our little one explore and learn while also providing us a safe space to connect with other parents; moreover, as a three-generational household, it has offered a place for grandma and grandpa to create new memories with their grandchild."

– Kevin, Children's Museum Access Member
Having a strong support network while growing up can provide an essential outlet for coping with tough feelings that come along with growing up like stress and anxiety. Along with many other benefits, feeling connected and supported by your community boosts your self-confidence, and esteem.
All of these aspects can greatly empower children and help them maintain strong mental and emotional health throughout their lives.
Play is More Important Than Ever Before
At the Children's Museum of Sonoma County, our goal is to provide a safe and accessible space for children to learn about the world around them through play! For our youngest visitors, the effects of the last year and a half go beyond physical health and it's becoming exceedingly clear that children need safe access to play now more than ever before.
The Museum Access for All Initiative
Access is essential to ensuring all children can play. At the Children's Museum, we have an open-door policy that allows visitors to pay on a sliding scale basis. We also offer Access for All Membership programs that are designed to serve families who are not able to afford the annual cost of a museum membership.
Kevin, who we quoted early, went on to describe how his family has benefited from our Access programs:
"[With] only one of us working and income very tight, we have only been able to access this amazing place because of the reduced-cost Access Membership the Children's Museum has provided. I can't imagine where we would be as a family without this amazing resource. I urge you to please support relief funding for Children's Museum of Sonoma County."

– Kevin, Children's Museum Access Member
With the generous support of our members, donors, and Access sponsors we are able to provide reduced-cost memberships to qualifying families every year. As a non-profit organization, we rely heavily on these charitable donations. We are only able to offer these important community resources because of YOU, our supporters.
Together we are able to inspire wonder and discovery through transformative play!
Discover All the Ways to Play and Promote Better Mental Health at Children's Museum of Sonoma County
Playtime is healing, and we all have a lot of healing to do. Providing children opportunities to play is an essential part of supporting their mental health and their development overall. As we continue to take responsible precautions, we are overjoyed to be able to provide a safe, and welcoming space to the children and families in our Santa Rosa community! We invite you to visit us Wednesday – Monday from 9:00 am – 4:00 pm to experience the power of play first hand!
In addition to all of our interactive exhibits, we also offer a variety of weekly programs designed for children of all ages, abilities, and stages of mind! The Children's Museum is also very pleased to offer a variety of special events, annual kid's camps, group visits, members benefits, private party rentals, free sensory-friendly events, and much more!
You can also connect with us on social media and bookmark our PLAYology Playbook blog to discover more resources on the benefits of play during early childhood development.
Sign up for our bi-weekly weekly newsletter to stay up to date on all the latest happenings, programs, events, and resources available at the Children's Museum of Sonoma County.
Sign up for E-News!
Sign up for E-News Form